Last Updated on January 10, 2023 by Dexter Roona
It is back to the VHS Covers series with this new Funko Pop! Monsters Inc. – Boo VHS Covers Funko Pop! Amazon Exclusive. Here is all the news on this new Disney Disney Pixar Funko Pop and the best online retailers to pick one up.
This latest release from the relatively new Funko Pop! VHS Covers series features Boo from Monsters Inc. The VHS Covers Boo is an Amazon Exclusive and gives us an all-new version of Boo wearing the Monsters Inc company's iconic blue hardhat. Isn't she just the cutest little employee ever at the scaring company?
NB: This new 2022 Monsters Inc Boo VHS Cover Funko Pop article contains product affiliate links. If you click a link and make a purchase then AFG may make a very small commission from qualifying purchases.
Shop Monsters Inc. Pops at
Monsters Inc. – Boo VHS Covers Funko Pop! Amazon Exclusive Vinyl Figure
The bosses at Monsters Inc are always eagerly searching for new, state-of-the-art, and innovative ways to scare humans. As we know things don't always go to plan in the scaring game.
Monsters Inc. is an energy company that employs scary monsters to produce energy for the city of Monstropolis. The monsters or scarers if you are referring to them by their job titles enter a parallel human world through doors. On the other side of these doors are the bedrooms of children. The scarers enter the children's bedrooms to scare the living daylights out of the kids to collect their screams, which are the raw material for energy that Monsters Inc produces.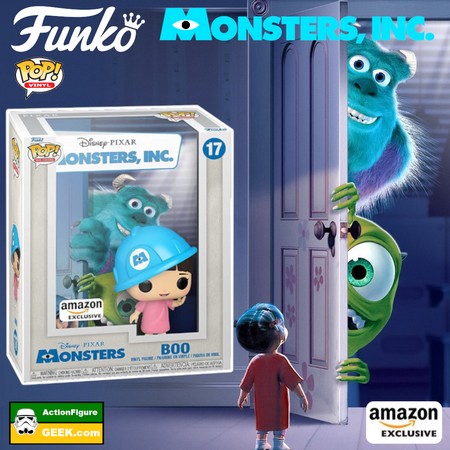 Shop for the

Monsters Inc. – Boo VHS Covers Funko Pop! Amazon Exclusive Vinyl Figure at:
When Sully, the blue-furred hero enters Boo's room all does not go to plan when she accidentally returns back through the door that Sully enters from to the power plant.
Boo is a friendly little girl who befriends Mike and Sully. Now it is a race against time to return Boo before the bosses realize that has crossed into the power plant.
Boo has a very strong scream so she could be employed to generate power but she would have to wear the power company's iconic blue hardhat.
Monsters Inc. was released in 2001, Monsters Inc. tells the story of two monsters, Sulley and Mike, who work for a power company that collects children's screams to power their city.
Monsters Inc is a movie full of humor, heart, and monsters. It is an early Disney Pixar classic that still stands up today and continues to entertain audiences.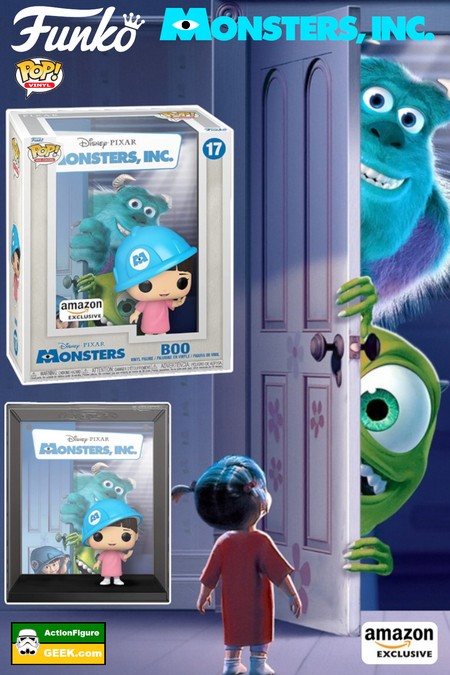 Buy Monsters Inc. Funko Pops at
Are you a Monsters Inc fan?
Will you be adding this Monsters Inc Boo VHS Covers Funko Pop to your collection? Which other VHS Cover Pops and Movie Cover Pops do you collect?
I really like the Christmas Vacation VHS Covers Pop and the Little Mermaid Funko VHS Covers Pop is awesome as well.
Away from the covers Pops I also like the X-Men Sentinel and Wolverine PX Exclusive and the Big Hero 6 Baymax with Butterfly.
Should Monsters Inc. be represented in the Disney 100 Funko Pops?
Let me know in the comments below.
Regards
AFG
Looking to add some new Funko Pops to your collection? Get 10% discount on all in-stock items at Entertainment Earth and free postage on orders over $39.99 with our AFGEEK Entertainment Earth Discount.