Last Updated on August 14, 2023 by Dexter Roona
We return to the Disney Funko Pop! category and bring news of the new Funko 25th Anniversary: Classic Maleficent Funko Pop! Box Funko Shop Exclusive with a limited production run of just 25000. We have all the news on this cool new Disney Villains Funko Pop! Box and the best online retailers to buy it from.
We have something very special for Disney fans as Funko reintroduces the legendary Disney villain Maleficent as a very cool limited-edition (25000 pieces) box. Crafted with utmost precision, Maleficent comes in a very special tin casing, decorated with an embossed design making the box look like a secure vault door. We also take a look at some of the other Maleficent Funko Pop! figures
Let's take a closer look at this cool Maleficent 25th Anniversary Disney Funko Pop! release.
NB: This NEW Funko 25th: Classic Maleficent Funko Pop! Box article contains product affiliate links. If you click a link and make a purchase then AFGeek may make a very small commission at no cost to you.
NEW Disney Classic Funko 25th: Classic Maleficent Funko Pop! Box Funko Shop Exclusive
The Disney Classic Villain Maleficent Pop Vinyl figure is gracefully poised atop a removable stand, encased in the familiar Funko window box with a silver metal-tone finish.
When you buy the Funko Pop! Classic Maleficent Vinyl you also get an enamel Pop! Pin and a stainless-steel Pop! Coin, both featuring the Mistress of Evil. There is also a collectible Maleficent bio card that completes this awesome 25th-anniversary Funko Pop! Classic Maleficent.
Collectors will need to be fast as this Classic Villain set is limited to just 25,000 pieces.
Shopping Guide
Other Maleficent Funko Pop! Figures
784 Maleficent on Throne Deluxe Funko Pop!
This Disney Villains Deluxe Funko Pop! depicts the Disney Villain Maleficent on her magnificent winged throne complete with a Gargoyles head.
Very visual Pop with great coloring and attention to detail makes this deluxe version a great Disney Villains Pop for your collection and a great alternative to the Disney Classic Funko 25th: Classic Maleficent Funko Pop! Box Funko Shop Exclusive.
There is a Diamond Collection version of the784 Maleficent on Throne but we much prefer this common version.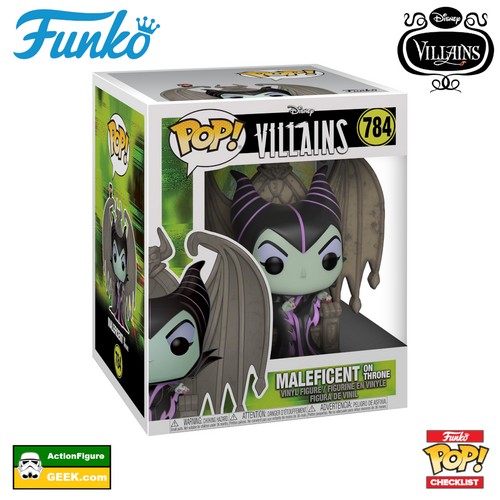 Price Check – Amazon and Amazon UK
1082 Maleficent with Crow Disney Villain Funko Pop!
This regular-size Maleficent Funko is another very good alternative to the Funko 25th: Classic Maleficent Funko Pop! This version features the evil Maleficent with her staff and a crow perched by her side.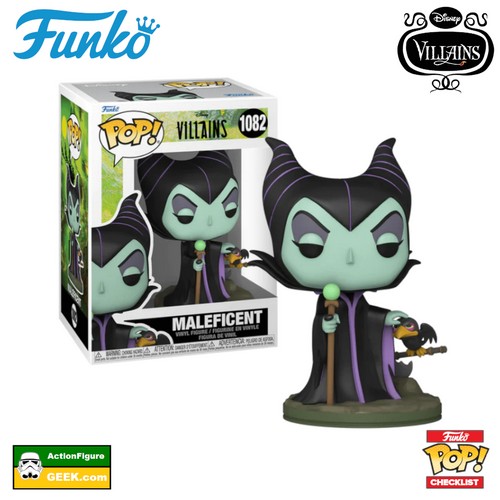 Price Check – Amazon and Amazon UK
1106 Maleficent as Dragon 10-inch GITD Amazon Exclusive and Special Edition
If you like your Maleficent Pops BIG then this is the Disney Villains Maleficent Pop! for you.
Maleficent is transformed into a magnificent dragon standing 10 inches tall with green eyes and a yellow serpent tongue this Pop is sure to stand out in your collection.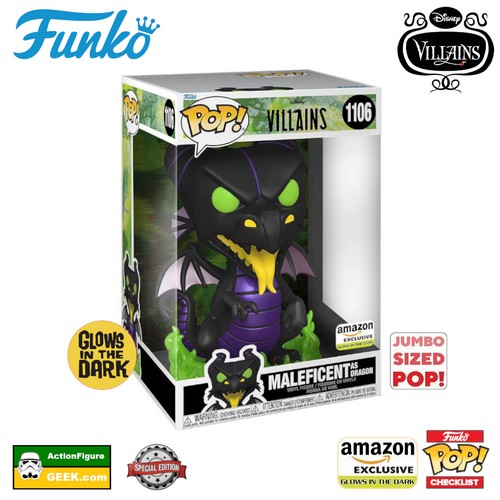 Price Check – Amazon and Amazon UK
Maleficent: Disney's Mistress of Evil
In the realm of animated villains, very few seize the screen and captivate us with as much elegance and theatrical flair as Maleficent, the Classic Villain from Disney's Sleeping Beauty.
Maleficent was first introduced in 1959, by Marc Davis, who created the character and envisioned her as a fusion of femme fatale and vampire bat, moving away from the typical style of witches and elderly hags.
She carried herself with a striking allure like that of an enchantress, her horned silhouette etched against the eerie backdrop of a decaying castle. She had a strong resonant vocal tone as potent and alluring as the character herself, setting Maleficent apart from all other Disney villains.
There is no attempt to justify her actions, no dark and tragic backstory, there is really no hint of redemption lurking beneath her wicked deeds.
Related Disney Funko Pop! Articles