Last Updated on October 17, 2022 by Dexter Roona
We have three new She-Hulk in Spandex Funko Pop releases to report on. Here is everything that you need to know about these cool hulk-tastic Pops and the best online retailers to buy them from. And keep reading until the very end as we have a very nice 10% working discount that is not time-sensitive that we can pass on to you.
The season finale of She-Hulk has really divided the viewers with fans either loving or hating the She-Hulk series.
I kind of liked it, my wife on the other hand really didn't think that the Marvel Series lived up to her idea of what a good Marvel series is.
I really did prefer She-Hulks solo outing to the recent Ms. Marvel and Moon Knight Disney Plus shows.
Despite what you think of the She-Hulk season finale it did offer some really cool easter eggs,  surprises, and confirmations of future projects. And it did provide the best line of the series.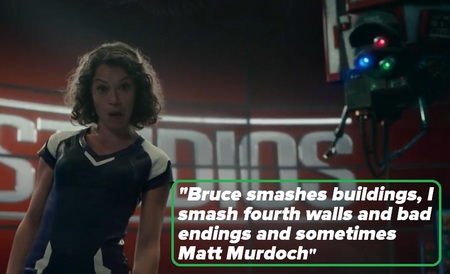 "Bruce smashes buildings, I smash fourth walls and bad endings and sometimes Matt Murdoch"
NB: As always this article contains product affiliate links. If you click a link and make a purchase then AFG may make a very small commission at no cost to you.
NEW She-Hulk in Lycra Funko Pop Releases
Hot off the back of the season finale of She-Hulk Attorney at Law, Funko gives us 3 new versions of She-Hulk in her spandex costume.
We have the regular common version that is available at all the usual online retailers such as Entertainment Earth and Pop in a Box (Links Below)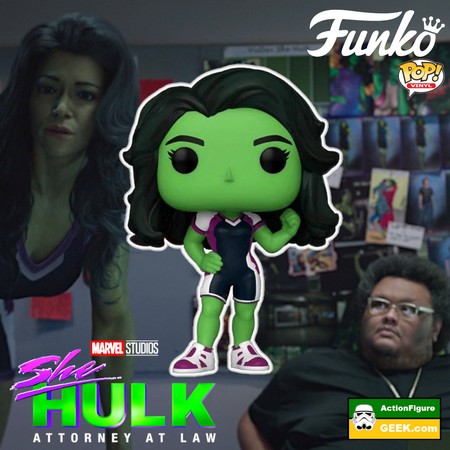 Buy from:
There is also a She-Hulk in Spandex GITD (Glow in the dark) Amazon Exclusive.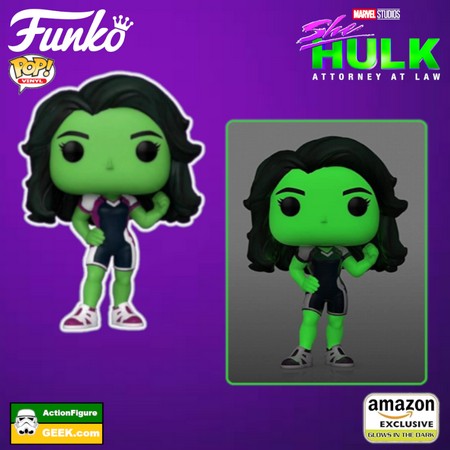 And finally, there is a She-Hulk in Spandex Jumbo Target Exclusive.
All of these new Funko Pop releases have the same pose.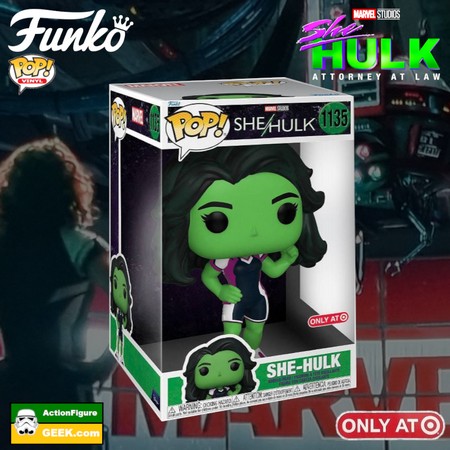 The best Pop of the 3 in the She-Hulk in Spandex GITD Amazon Exclusive.
I fully expect there will quickly be a Funko Special Edition made available for us UK collectors and overseas collectors.
I also really like the Jumbo She-Hulk Attorney at Law, it feels right that we have a large version of She-Hulk and I would be very happy to add the common Pop to my other She-Hulk Attorney at Law Funko Pops as well.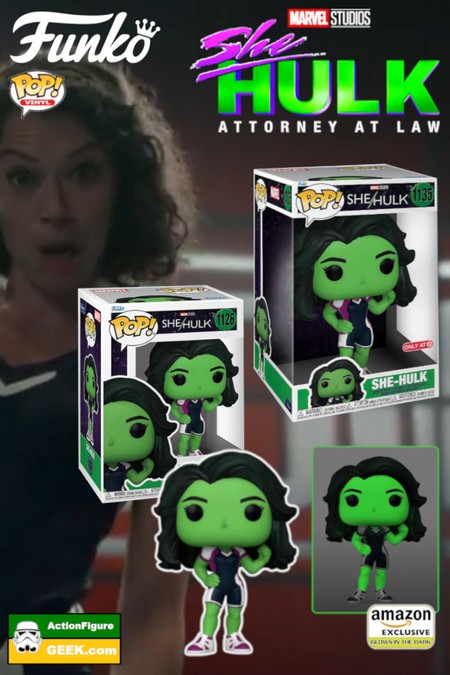 Season Finale Spoilers
We have to talk a little about the finale so be aware there are some basic spoilers ahead.
The Season Finale sees Jen setting off to find who is responsible for stealing her personal data and displaying it on the big screen at the Lawyers Award Gala. As the episode progresses Jen becomes progressively disappointed and disillusioned with how the episode is unfolding to the point where she breaks out of the show to the Disney Plus Streaming Menu on the Tv and breaks in to confront the She-Hulk writers in the middle of their meeting to discuss a change in direction for the finale. This leads her to go above the writers and seek out Kevin Feige, who is all things, Marvel. Kevin Feige turns out to be an A.I supercomputer.
The big reveal for me at the end was the return of Bruce where he introduces Skaar as his son ay the family dinner.
All in all, it was a good ending to the series that gave us lots to talk about and lots to look forward to.
But… we still have no Matt Murdoch, Daredevil in Yellow Mask Pop and could we be getting a  Skaar Pop in the future very soon?
Did you see the She-Hulk season finale?
What did you think?
Will you be adding any of the new She-Hulk in Spandex Funko Pop releases to your collection?
Let me know in the comments section below.
Regards
AFG