Last Updated on August 15, 2023 by Dexter Roona
We return to the fan-favorite Star Wars Black Series Action Figures with this very cool NEW Star Wars Sabine Wren (Ahsoka) Black Series Action Figure from the Disney+ Ashoka Series. We have everything you need to know on this cool new action figure including the best online retailers to buy it from.
Hasbro has unveiled a brand new addition to the Star Wars Black series 6-inch figure range in the form of the live-action Sabine Wren figure from the Ashoka series.
The Ashoka live-action series is set after the fall of the Empire and follows former Jedi Knight Ahsoka Tano as she investigates an emerging threat to a still highly vulnerable galaxy.
NB: This NEW Star Wars Sabine Wren (Ahsoka) Black Series Action Figure article contains product affiliate links. If you click a link and buy a product then AFG may make a very small commission at no cost to you.
NEW Star Wars Sabine Wren Black Series Action Figure from the Ashoka Disney+ Series
Star Wars Black Series Sabine Wren action figure feature Sabine in her iconic Mandalorian attire, with a detachable helmet, a pair of blasters with holstering capability, and the inclusion of Ezra's distinct green lightsaber.
A must-have for any Black Series Action Figure fan.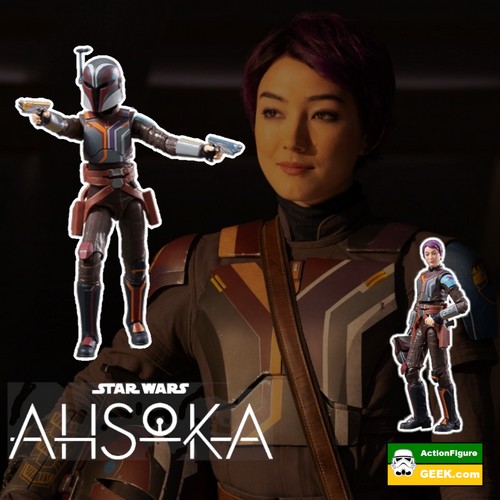 Shopping Guide
Who is Sabine Wren?
Sabine Wren is a Mandalorian warrior, talented explosives expert, and graffiti artist all good qualities that came in very handy as one of the very first rebels against the Imperial Empire. As a member of the Ghost crew, Sabine used her expertise in bomb-making to great effect against the evil Empire, and would very often graffiti tag her work with spray-paint.
As a Mandalorian, Sabine has a very strong connection to her heritage, wearing her iconic Mandalorian armor with pride as a testament to her lineage. Sabine's involvement with the crew of the Ghost brings her into the heart of the Rebellion against the Empire. Her keen combat skills, tactical acumen, and resourcefulness make her an indispensable asset to the team. But what truly sets Sabine apart from her counterparts is her willingness to confront her own past and forge her destiny.
Her complicated history with the Empire, her family, and the Mandalorian code forms a rich backdrop against which she is forced to evolve. From her struggles with self-doubt to her eventual acceptance of being a leader, Sabine's growth resonates with audiences, mirroring the journey of self-discovery and empowerment that we all share.
Must Know Facts about Sabine Wren
Crouching Tiger, Hidden Dragon
The Ahsoka series sees Natasha Liu Bordizzo taking the role of the Mandalorian freedom fighter. You may well be familiar with some of Natasha's work, she also started in Crouching Tiger, Hidden Dragon: Sword Of Destiny.
Sabine Wren Graffiti Tagging Inspired The Rebel Alliance Insignia
The Rebel Alliance logo is an iconic Star Wars symbol throughout the Star Wars Universe, and it was inspired by Sabine Wren's work. She typically painted phoenix-like symbols with flaming wings that went on to inspire the Rebel insignia.
Bounty Hunter and Beyond
Sabine Wren was a former Empire Cadet but left the Empire after she discovered it was not the galactic empire she thought it to be. On leaving the Empire she turned her skills to bounty hunting joining with fellow bounty hunter Ketsu Onyo. Sabine later became a crew member of the Ghost and became a member of the Rebellion.
Played a part in Wedge Antilles joining the Rebellion
As an Imperial cadet, Sabine Wren came into contact with Wedge Antilles who himself was a Cadet in training.
She has wielded the Darksaber
As a valued member of the Ghost crew, Sabine comes into possession of Darksaber, the traditional weapon of the rightful ruler of Mandalore. Sabine trained with the legendary weapon with Jedi Kanan Jarrus.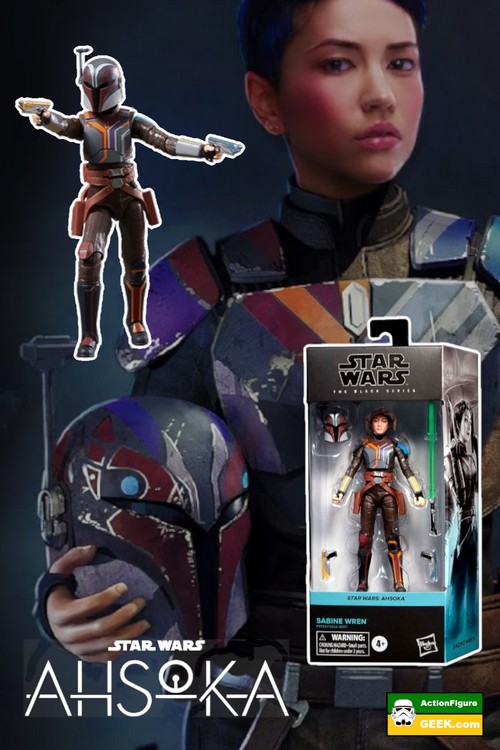 Related Star Wars Merch Articles: