Last Updated on August 27, 2022 by Dexter Roona
The She-Hulk Funko Pops continue to get released and today we bring you the NEW Titania Funko Pop  She-Hulk: Attorney vinyl figure. Let's take a look and offer you the best online retailers to buy her from and we also have some cool images of this Marvel Pop as well.
As of writing this new NEW Titania Funko Pop post, the next episode of She-Hulk is available to stream on Disney+ and so as the episodes are made available the Pops roll out so as not to offer any spoilers. There is a rumor that Daredevil may appear wearing his yellow costume, if a Pop was released with a yellow suit then we know he wears a yellow suit in the show. So for this reason the Pop rollout follows the series rollout
The second episode of the new MCU production gives us a very cool version of Titania, dressed like one of the Whitney Houston Pop Icon Funkos 😉 even though Titania is really in the Ep 1 recap at the start.
In the first episode of She-Hulk Titania crashed through the walls of the courtroom. And Jennifer Walters was forced to turn into She-Hulk so revealing her secret to court.
Just like She-Hulk, Titania possesses superhuman strength. She stands over six feet tall, with quite a muscular imposing physique. She is definitely not someone you want to mess with unless of course, you are She-Hulk Attorney at Law.
NB: This article contains product affiliate links. If you click a link and make a purchase then AFG may make a very small commission at no cost to you.
NEW Titania She-Hulk: Attorney at Law Funko Pop
The NEW Titania She-Hulk: Attorney at Law Funko Pop is the 4th Pop to be released from the Disney+ Series.
Buy Titania on Entertainment Earth
(Free shipping on orders over $39.99 US Only)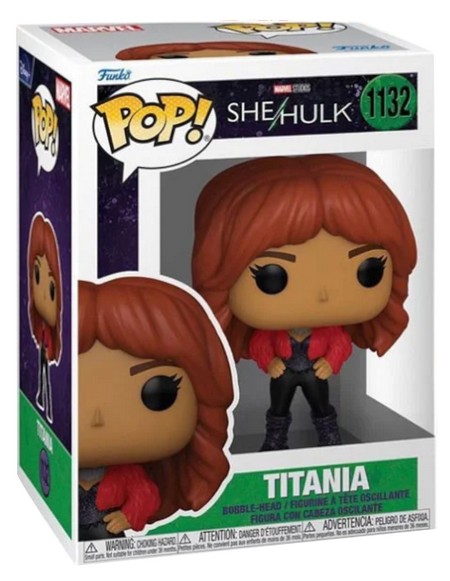 She-Hulk Attorney At Law Episode 2 centers around Jen losing her job with no other law firms willing to employ the She-Hulk
Luckily the opposing GLKH lawyer on last week's case, Holloway, offers Jen a job. Holloway wants the She-Hulk as the face of his Superhuman Law Division. But the first case given to Jen is that of Abomination who is looking for parole from imprisonment. But this case is a conflict of interest for Jen as Abomination attempted to kill her cousin Bruce Banner, The Hulk. Will she be able to take the case?
Scanning the web the news sites are suggesting that Titania doesn't return to the series until episode 5.
She-Hulk Funko Pop Prediction time:
I'm thinking that the next Pop released in the She-Hulk series will be an Abomination Funko Pop or a version of Emil Blonsky (Abomination in human form) possibly as a Hot Topic or Walmart Exclusive… we will have to wait to see if I am  correct.
Have you watched the She-Hulk Series yet?
Will you be buying any of the Pops?
We also like the Loki Series Pops and the Hawkeye Funko Pops.
Which Marvel Series Pops do you like?
Drop us a comment below and let us know.
Regards 
AFG