Last Updated on January 28, 2023 by Dexter Roona
We have a new Red Hawk Luffy Funko Pop to report on today. This new One Piece collectible is available as a common and as a Glow-In-The-Dark (GITD) Chase Funko Pop. We have all the news on this cool new Funko Fair 2023 vinyl figure and the best online retailers to buy him from.
This Red Hawk Luffy Funko Pop is one stylish Pop vinyl figure. He is highly detailed and would be a great addition to any One Piece Funko Pop Collection.
Red Hawk Luffy is an AAA Anime Exclusive with a GITD Chase also available. Overseas buyers will need to pay a bit more for this hot collectible or wait for Funko to release a Special Edition.
NB: Disclaimer – This new Red Hawk Luffy Funko Pop with chase article contains product affiliate links. If you click a link and make a purchase then AFG may make a very small commission at no cost to you. Thank you for your support!
One Piece – Red Hawk Luffy AAA Anime Exclusive with a GITD Chase (Funko Fair 2023)
Red Hawk is Luffys go-to technique when he is fist deep in a fight and holds the power of a raging fire.
Luffy is pretty formidable when you mix Red Hawk with his Gear Second ability and Busoshoku Haki enhancements.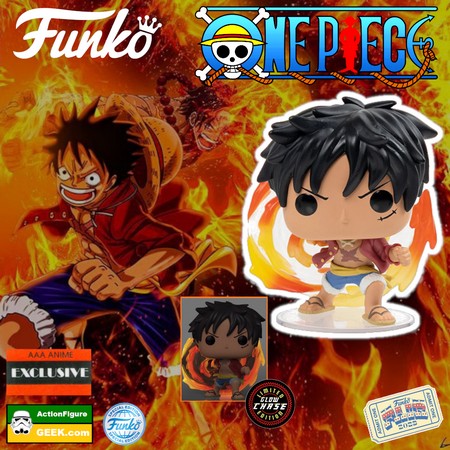 Shopping Guide
You can buy this cool One Piece – Red Hawk Luffy Funko Pop AAA Anime with GITD chase Exclusive (Funko Fair 2023) at the following online retailers:

You can now get a very generous 10% discount on all in-stock items with free postage on all orders over $39.99 at Entertainment Earth by using our special AFGEEK discount. 

If you would like to know more about this discount then please refer to our Entertainment Earth Discount page.
When Monkey D. Luffy combines his Gear Second with Haki, he can generate incredible power. His fists are able to burn through anything, rivaling the power of a fire-breathing dragon.
His Busoshoku Haki is the equivalent of an invisible defense force field that surrounds you. He is also said to be able to combine his stretchy elasticity with partial hardening. This allows him to use his arm like a slingshot catapult.
All in all, Luffy is a pretty tough dude!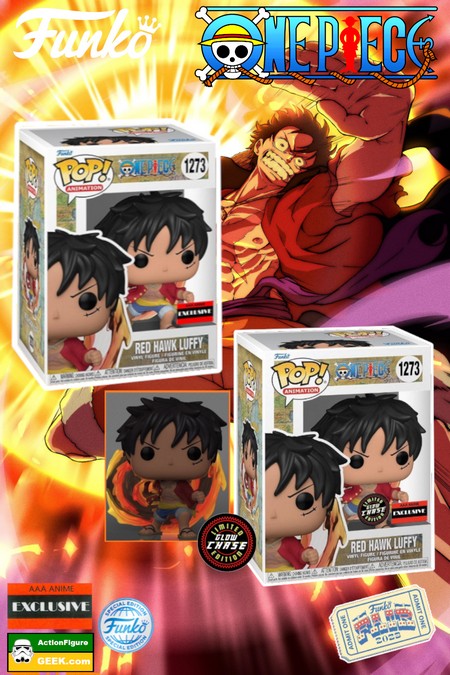 Red Hawk Luffy is another new One Piece Funko Pop that I am hard geeking out over.
Will you be adding this One Piece – Red Hawk Luffy AAA Anime Exclusive with a GITD Chase (One Piece Funko Fair 2023) figure to your collection?
Are there any other anime Pops that you like?
I am a fan of the new Child Big Mom 6-inch Funko Pop! and the Buggy The Clown Funko Pop Hot Topic Exclusive is also great as well.
Moving away from the anime Pops I like the Avengers 60th Anniversary Funko Pops and the Babymetal Pop Rocks Funko Pops.
But what do you like?
I'm very interested in hearing about your likes and dislikes.
Let me know in the comments below.
Regards
AFG