Last Updated on September 14, 2022 by Dexter Roona
This new She-Hulk Funko SODA With Metallic Chase – FunKon II 2022 and FunkoShop Exclusive is sure to be a big hit with Funko Soda fans especially when the new She-Hulk Attorney at Law show drops.
Here at AFG, we are really excited to watch the new She-Hulk Disney+ series and can't wait to get our hands on the She-Hulk Attorney of Law Funko Pops and we are just as excited about this new She-Hulk Funko Soda release.
Jennifer Walters aka She-Hulk may not be as strong as her cousin Bruce Banner aka The Hulk, but she is still a force to be reckoned with.
She-Hulk first appeared in Marvel Comics in November 1979 when she was given her very own comic titled Savage She-Hulk #1.
But it is not all about brute force or screaming HULK SMASH! at the top of your voice. Thanks to her background as a lawyer and with the help of Bruce Jennifer is able to control her rage when in Hulk mode while still keeping the huge strength and power.
She-Hulk Funko SODA With Metallic Chase – FunKon II 2022 and FunkoShop Exclusive
The She-Hulk Funko SODA  – FunKon II 2022 and FunkoShop Exclusive is limited to just 10000 pieces and there is an even rarer She-Hulk Metallic Chase to find as well.
Price Check –

e

B

a

y
Price Check  – Amazon
She-Hulk Attorney at Law
The way that Jen gets her powers is very different between the comic and Tv series.
In the comics Jennifer Walters is shot by a crime lord as revenge for the actions of her local town Sheriff' father the only way to save Jennifer is to give her a blood transfusion but the only match for her blood comes from her cousin Bruce Banner. With Bruce's gamma radiation blood Jennifer is transformed into She-Hulk. But in the Disney+ series, Jen and Bruce are out driving when they are involved in a car accident when a Sakaaran Class-Eight Courier Craft runs them off the road. Jen suffers a nasty gash on her arm but is in better shape than Bruce. She goes to aid Bruce but in doing so her blood is mixed with Bruces causing her to change into the She-Hulk.
Jennifer is able to retain her intelligence, self-awareness, and consciousness and her She-Hulk transformation is voluntary which is something that took the Hulk a long time to achieve until he became Professor Hulk.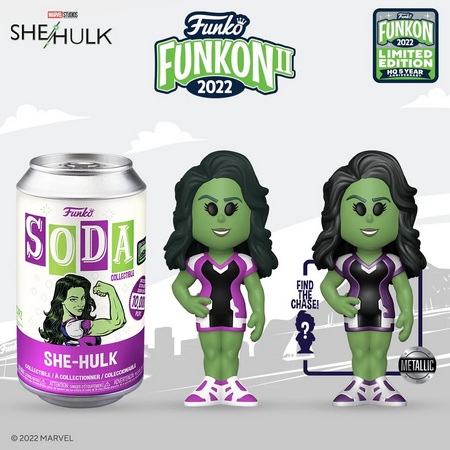 Have you watched the She-Hulk Disney+ show?
Do you think it remained true to the comics?
Which other Marvel Disney Show Pops do you like? We love the Loki Pops and the Ms.Marvel Pops and the Moon Knight Pops are pretty cool as well.
You can have your say in the comments section below. We would love to hear from you.
Regards
AFG