Last Updated on October 27, 2022 by Dexter Roona
We have a new Funko POP Star Wars Boba Fett Comic Cover Funko Pop Walmart Exclusive to report on. Here is everything you need to know about this cool Star Wars Comic Cover Pop, the best online retailers to buy it from, and accompanying images. So keep reading till the end and I will give you a 10% discount at Entertainment Earth, full details are below.
This new Star Wars – Boba Fett  Comic Cover Funko Pop Walmart Exclusive celebrates the cover artwork of the classic Star Wars #68: The Search Begins Comic Book.
The comic book story depicts the Rebels search for Han Solo. They split into three groups to search for the missing Han, Lando and Chewwy in the Millennium Falcon, Luke Skywalker and R2D2 in the X-Wing and Leia with C3P0 in a Y-Wing.
NB: This Star Wars Boba Fett Comic Cover article contains product affiliate links. If you click a link and make a purchase then AFG may make a very small commission at no cost to you.
Star Wars Boba Fett Comic Cover Funko Pop Vinyl Figure Walmart Exclusive
The Star Wars Comic Covers series is a relatively new wave of Pops. This Boba Fett Comic Cover figure is only the second to be released in the series. If we look at the success of the VHS Cover Pops and the Movie Cover Pops then we can assume that this series is going to be one that is very popular, particularly with comic book fans, and will grow fast. I strongly suggest buying this Pop and its predecessor because as this series grows they will become very hard to find and increase in value as collectors look to buy the earlier figures that they missed.
The Boba Fett Comic cover is a Walmart Exclusive though I expect that Funko will release a Special Edition very soon for the wider market.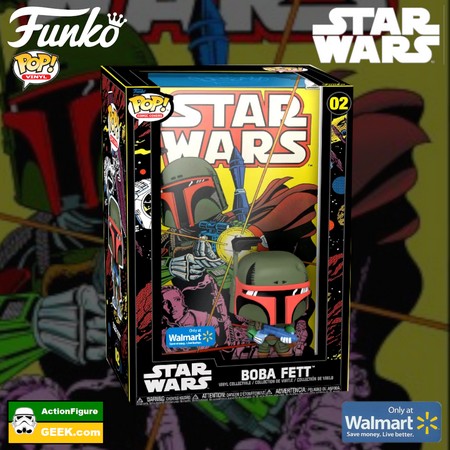 Shop Funko Pop – Star Wars Boba Fett Comic Cover Exclusive at

WALMART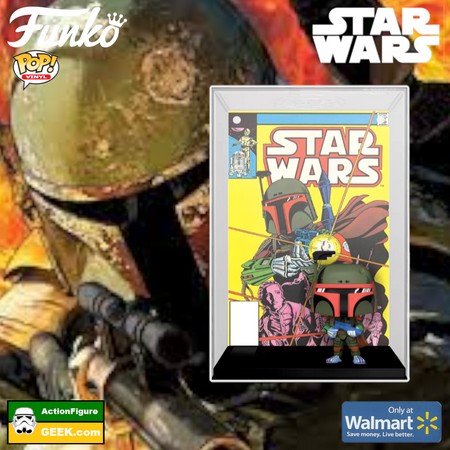 Star Wars is a franchise that has spanned multiple generations and it is still going strong today. Recently the direction has moved away from movies to producing TV shows such as The Mandalorian, Obi-Wan, and the new Star Wars Andor and let's not forget that Disney+ also gave us the recent The Book of Boba Fett. And with the advancements in CGI it it becoming more and more possible to bring movie-quality TV shows to the home. But it is not just live-action TV and Movie content that Star Wars has excelled in they also make some pretty great animation series such as The Bad Batch.
All of this great Star Wars content is influenced by the books and comics that came off the back of the release and success of Star Wars: A new hope and the movies that followed.
Marvel Comics filled the void left after the Star Wars Trilogy had been released and began publishing Star Wars comics in 1977. The first outings were simply adaptations of the movies.  But new original stories were quickly commissioned and the Star Wars universe was born.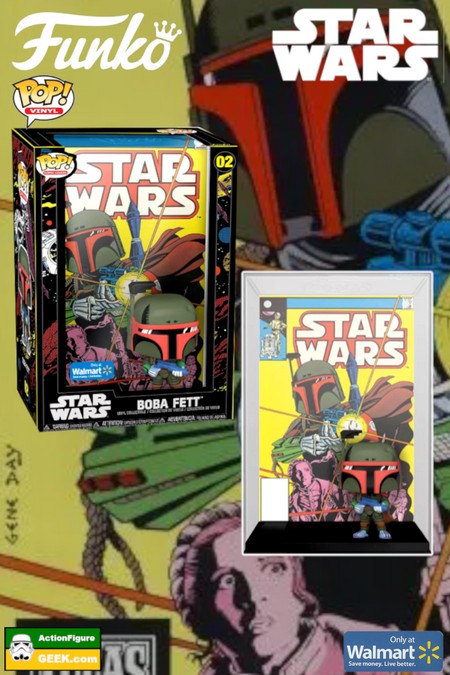 Are you a Star Wars fan?
What do you think of these Star Wars Comic Covers and primarily the featured Boba Fett Comic Cover?
Are you also a fan of the Marvel Comic Covers and the DC Comic covers?
Let me know in the comments section below.
Regards
AFG