Last Updated on August 15, 2023 by Dexter Roona
We have a cool new Black Series action figure to report on, the new Star Wars The Black Series Werewolf Wookiee (Halloween Edition) and Bogling 6-Inch Action Figure. Here is all the news and information that you need about this new Star Wars collectible.
The exciting news for the collector market is that Hasbro has unveiled six brand new really cool new Star Wars: The Black Series Holiday action figures. The line up includes:
First Order Stormtrooper
Mandalorian in his Christmas Jumper
Protocol Droid
Phase II Clone Trooper
Scout Trooper
Wookiees are big, fearsome humanoid aliens in the Star Wars universe. They inhabit the forest areas of their native home planet Kashyyyk. They are very different from humans. Big in stature with their head and bodys covered excessive hair. They have far superior physical strength to humans.
The most well-known Wookiee in the Star Wars universe is Chewbacca. We first saw Chewwy in the surprise hit movie Star Wars: A New Hope that was released in 1977. Chevvy was the co-pilot of the Millennium Falcon who sat alongside smuggler Han Solo.
Outside of the comics, the next most notable Wookie is Krrsantan, also known as BlackKrrsantan due to his very dark hair.The Book of Boba Fett fans will remember Black Krrsantan from the Disney + show with his first Star Wars appearance being in the Star Wars comics.
Krrsantan is a really tough mean character who used to be a gladiator. He later offered his services as a "For Hire" mercenary and was quickly aquired and employed by the Hutts.
NB: This Black Series Wookie- Halloween  Edition article does contain some product affiliate links. If you click a product link and make a purchase then AFG may make a very, very small commission at no cost to you.
Star Wars The Black Series Wookiee Werewolf (Halloween Edition) and Bogling 6-Inch Action Figure
This new Star Wars: The Black Series action Wookie and Bogling Halloween Edition comes with a Halloween candy bucket crammed with Beskar steel wrapped up to look like chocolate bars.
This Halloween Black Series Action Figure celebrates the spooky season with Halloween-themed packaging. The Werewolf Wookiee – includes a Bogling figure.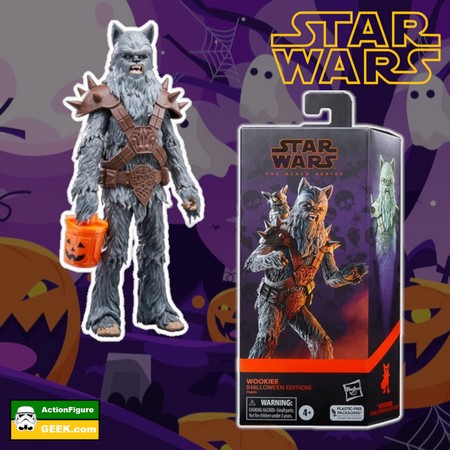 Shop for the Star Wars The Black Series Wookiee Werewolf (Halloween Edition) and Bogling 6-Inch Action Figure at: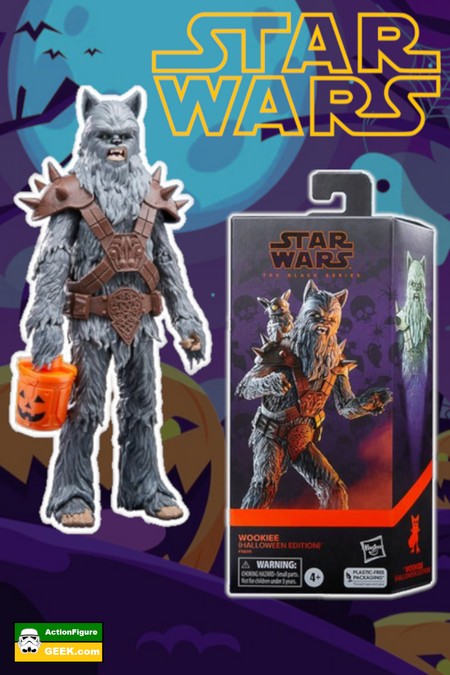 So what do you think of this new Halloween Wookie Black Series Action Figure?
Which other action figures do you collect?
The Marvel Legends Black Panther Legacy action figures are great. I anticipate that we will get a new Eric Killmonger Action Figure very soon even though he died in Black Panther. The new Marvel Legends War Machine is a great new action figure as well. And away from action figures I really like the new House of the Dragon Caraxes Funko Pops.
But I want to hear from you.
What do you like?
Let me know in the comments section below.
Regards
AFG