Last Updated on November 22, 2022 by Dexter Roona
We have another Concert Moment Funko Pop to talk about today, here is everything you need to know about the new 2022 U2 Concert Moment Funko Pop ZOO TV Tour 1993  Deluxe Vinyl Figures – Walmart Exclusive.
The U2 Zoo Tv tour really took stadium gigs to a new level. U2 is known for its large and extravagant stage productions, but the Zoo TV Tour in 1993 took it to a whole new level.
This Funko Pop! U2 Concert Moment Zoo TV Tour 1993 Funko Pop! Walmart Exclusive gives us all new versions of The Edge, Bono, Larry Mullen Jr., and Adam Clayton during the Zoo Tv tour and captures the exhilarating spectacular in true Funko Pop style.
NB: This new U2 Concert Moment Walmart Exclusive Funko Pop article contains product affiliate links. If you click a link and make a purchase then Action Figure Geek may make a very small commission from qualifying purchases.
U2 Concert Moment Funko Pop Zoo Tv Tour 1993 Walmart Exclusive
The Zoo TV Tour was a huge success, breaking records and racking in a very impressive $340 million. Each show was an innovative spectacular with groundbreaking visuals and is the band's most memorable concert tour to date.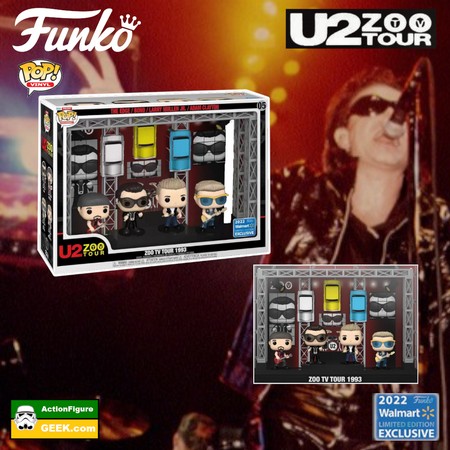 Shop for the Walmart Exclusive U2 Concert Moment  Zoo Tv Tour Funko Pop Vinyl Figures at Walmart
Price Check – Amazon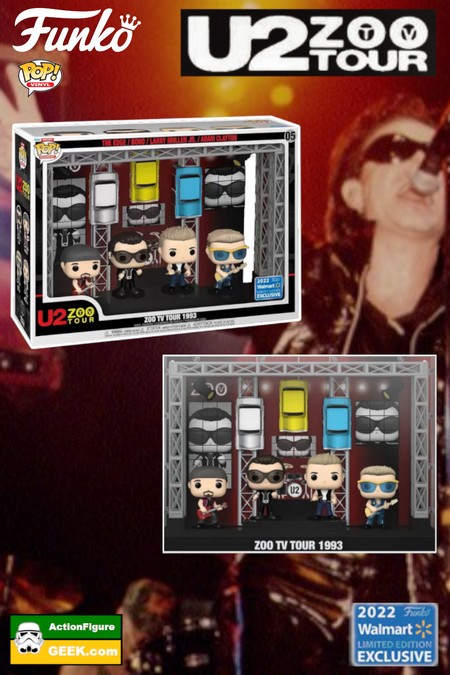 Each Zoo TV show began with a big 240ft crane dropping a 40-foot-wide video screen onto the stage.  The large screen played emotive images of wild animals and nuclear explosions.
The set list included the hits "Pride (In the Name of Love)" and "One," as well as new tracks from the album at the time Achtung Baby.
Bono put on an outstanding charismatic performance at every show of the world tour, with costume changes for different personas that he adopted throughout the show.
The finale to the show saw Bono climb the 80ft lighting rig to perform "Where the Streets Have No Name."
Are you a fan of these new Funko Concert Moment Pops?
Will you be adding the U2 Concert Moment Funko Pop Zoo Tv Tour Walmart Exclusive to your collection?
Which other music Pops do you collect? Sticking with the Concert Moments the Funko Pop Run DMC Concert Moment is cool. I also really like the Bella Poarch Patchwork outfit Funko Pop and the Green Day Funko Pops are pretty awesome as well. But let's hear from you now.
Let me know your favs in the comments below.
Regards
AFG