Last Updated on January 16, 2023 by Dexter Roona
We have more from Disney as we bring you the new Disney Princess – Ultimate Princess Collection: Mulan with Pin Funko Pop –  Funko Shop Exclusive. We have everything you need to know about this new Disney Funko collectible and the best online retailers to buy her from.
Disney Princesses play a big and important part in popular culture. They can be found in fairytales, comics, and blockbuster movies where they captivate their audiences and expand their imaginations. And such interest in Disney Princesses garners endless toys and merchandise that are snapped up by fans and collectors.
This Disney Princess – Ultimate Princess Collection: Mulan (Gold) with Pin Funko Pop is one such release that will have Disney Funko Pop Fans and fans in general clambering to buy her.
NB: Disclaimer – This Ultimate Princess Collection: Mulan – Gold – with Pin Funko Pop article contains product affiliate links. If you click a link and make a purchase then AFG may make a very small commission at no cost to you.
323 Ultimate Princess Collection: Mulan with Pin Funko Funko Shop Exclusive 
Mulan is not your average Disney Princess.
She doesn't need to be saved or rescued. She has no use or time to wait for a Prince. Mulan is fiercely independent and tenacious. Moreover, she is strong and can easily hold her own in a fight. Mulan is your non-traditional princess. In princess terms, she is quite rare. Someone who is not afraid to tell you what she thinks and speak her mind.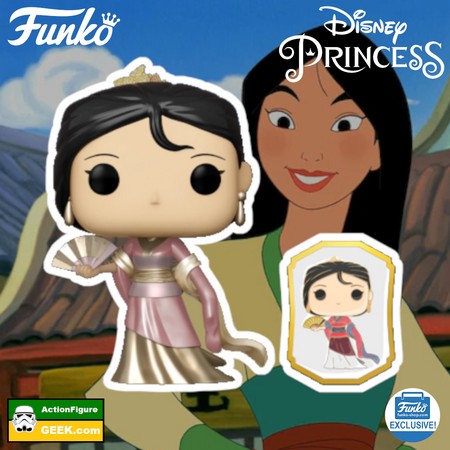 Shopping Guide
Buy the Ultimate Princess Collection: Mulan with Pin Funko Pop at:

Shop for Mulan and other Disney Funko Pops at Entertainment Earth and receive a 10% discount on all in-stock items and free postage on all orders over $39.99 at by using our special AFGEEK discount. If you would like to know more about this discount then please refer to our Entertainment Earth Discount page.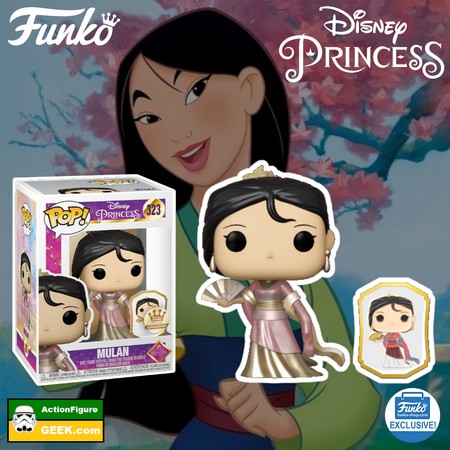 Princess Mulan is a very sweet and kind-hearted girl. But there is more to her than meets the eye. For example, she is a martial arts master and an accomplished strategist.
She really is not afraid to stand up for what she believes in which can sometimes put her at odds with her family.
This new Disney Princess Collection Mulan is a great Pop and is a great addition to the other Disney Princess Funko Pops already released.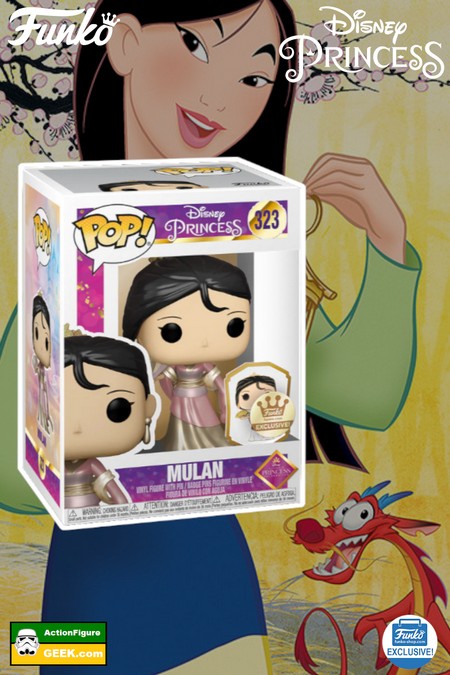 Are you a Disney Princess fan?
Will you be adding the Ultimate Princess Collection: Mulan with Pin Funko Pop to your Collection?
Which other Disney Funko Pops do you like?
I am a fan of the new Skeleton Stitch Funko Pop and the Disney 100 Snow White in rags Funko Pop.
Away from the Disney Pops, I love the many Funko music offerings with some of my favorites being the Run DMC Concert Moment Funko and the Kiss Concert Moment, and a big shout-out to the Iron Maiden AE Exclusive Funk Pop 4-pack, it's great value for money.
But I want to know what you like.
Let me know in the comments section below.
Regards
AFG
Want to stay ahead of the game with Funko Pop releases?

Check out our Funko Pop Rumors and Leaks pages.