Last Updated on April 10, 2023 by Dexter Roona
Today we explore the idea of Funko creating Funko Pop! Chess Sets – Funko Pop! Chess Pieces.
Funko makes some great Pops, but it seems to me that there is a gap in the market for a Funko Pop! Chess Set and Funko Pop! Chess Pieces. Imagine collecting each chess piece that could include its own board square with each square connecting to create the board so creating your very own Funko Pop! Chess Set.
This genius idea doesn't stop here. Imagine themed Funko Pop Chess sets, for example, the Marvel Chess set including Spider-Man, The Avengers, and the X-Men teaming up against all the Marvel villains. You could also have anime Funko Chess sets. Demon Slayer would be an awesome anime to turn into a Chess set with the Demon Slayer Corps/Hishira teaming up against Muzan Kibutsuji and the other demons.
NB: Please note that these Funko Pop! Chess Sets and Funko Pop! Chess Pieces are not official products they are simply content ideas for ActionFigureGeek though if Funko did make these products we would by them. Also note that this article may contain product affiliate links.
Funko Pop! Chess Sets – Funko Pop! Chess Pieces
We have imagined just what Funko Pop! Chess Sets and Funko Pop! Chess Pieces could look like in the images below.
Chess is a two-player board game that has been played for thousands of years. It is a game of strategy, skill, and patience, and is enjoyed by millions of people and is now also played worldwide on laptops and mobile devices. The game is played on a square board comprising 64 squares.  Each player starts the game with the same number of pieces: one king, one queen, two rooks, two knights, two bishops, and eight pawns.
The objective of Chess is to capture/checkmate the opponent's king, trapping it so that it can no longer move. Players take turns moving their pieces across the board, with each piece having its own unique movement patterns. You are required to think ahead and anticipate your opponent's moves, and make tactical and strategic decisions based on the position of the pieces on the board as the gameplay evolves
Chess is a timeless classic that continues to captivate and challenge players of all ages and skill levels and remains one of the most popular and enduring board games of all time, and Funko Pop! Chess Sets – Funko Pop! Chess Pieces would be a great addition to the Funko Product line.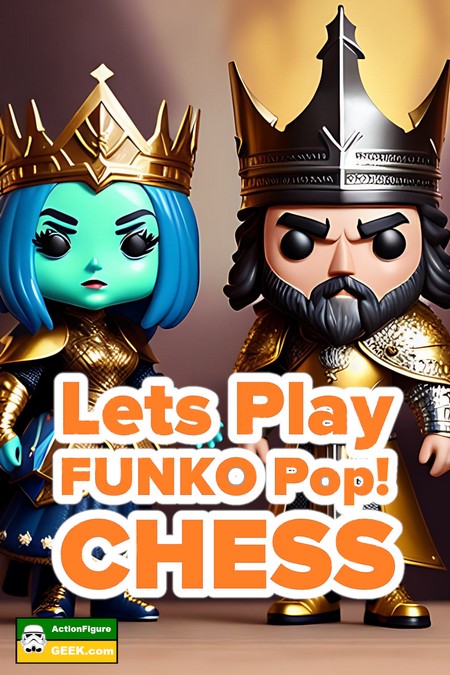 Related Funko Pop! Articles: