Last Updated on June 3, 2023 by Dexter Roona
Today we have news on the new Jurassic Park 30 Years: T-Rex Amber Funko Pop! We have all the news and on this cool movie Funko Pop! collectible and the best online retailers to buy her from.
Jurassic Park, the iconic blockbuster movie that captured the imaginations of audiences worldwide, celebrates its 30th anniversary this year. As fans reminisce about the thrilling adventures on Isla Nublar, Funko, the beloved collectibles company, has released an exquisite new addition to its Jurassic Park/World franchise: the T-Rex Amber Funko Pop!
This article dives into the fascinating background of the Tyrannosaurus rex from the original film and explores why this Funko Pop! is a must-have for fans and collectors alike.
NB: This Jurassic Park 30 Years: T-Rex Amber Funko Pop! article contains product affiliate links. if you click a link and make a purchase then AFG may make a very small commission a no cost to you.
Celebrating 30 Years of Jurassic Park with the T-Rex Amber Funko Pop!
To pay tribute to the long legacy of Jurassic Park, Funko has meticulously crafted the awesome T-Rex Amber Funko Pop! This 4-inch vinyl figure perfectly captures the essence of the iconic dinosaur encased in amber.
The intricate details, from the T-Rex's fearsome teeth to its rugged skin texture, are a testament to the craftsmanship and attention to detail that Funko puts into its creations and look awesome within the amber hue.
This collectible captures the T-Rex in a dynamic pose, ready to unleash its primal might upon any collection.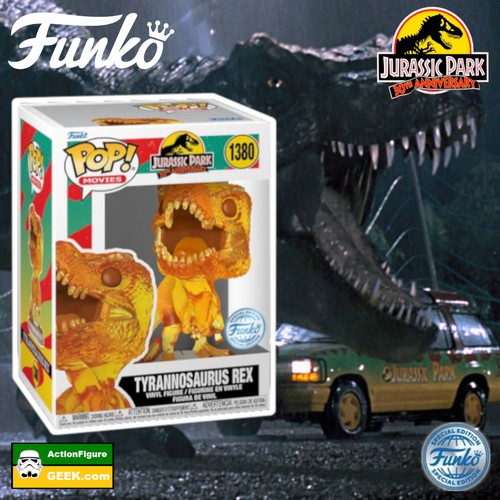 Price Check – eBay and eBay UK

Price Check – Amazon and Amazon UK

Buy Jurassic Park Funko Pops and Merch from Entertainment Earth
T-Rex Amber Funko Pop!
For fans of the original Jurassic Park film, the T-Rex Amber Funko Pop! is a nostalgic treasure. It takes us back to the electrifying moments when the T-Rex first emerged from the paddock, sending shivers down our spines. As we hold this collectible in our hands, we are transported back to the awe-inspiring scenes that made our hearts race and our eyes widen with wonder. It serves as a tangible reminder of the magic and excitement that Jurassic Park brought into our lives.
Collectors will find the T-Rex Amber Funko Pop! to be an irresistible addition to their ever-growing collections. Funko Pop! figures have gained popularity for their wide range of characters from various franchises, and the Jurassic Park line is no exception. This limited-edition T-Rex variant will undoubtedly become a prized possession, standing tall alongside other iconic Jurassic Park characters. Whether displayed in a collector's cabinet or used as a centerpiece for Jurassic Park-themed displays, the T-Rex Amber Funko Pop! is sure to be a conversation starter.
The Mighty T-Rex
Jurassic Park introduced us to a prehistoric world brought back to life through the wonders of genetic engineering. Among the awe-inspiring creatures that roamed the park, the Tyrannosaurus rex, often referred to as T-Rex, stood out as the undisputed king. With its massive size, powerful jaws, and earth-shaking roars, the T-Rex became an unforgettable symbol of both fear and fascination. Its epic battle with the cunning Velociraptors in the movie's climax remains etched in the memories of countless viewers.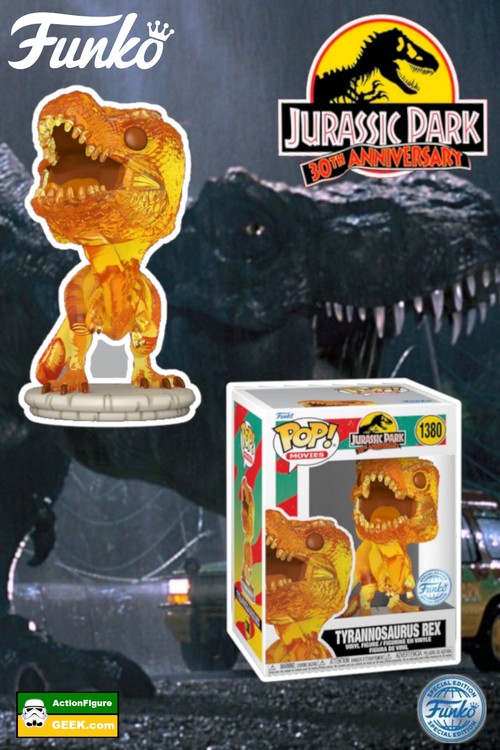 Related Movie Funko Pop Articles:
From the AFGeek Blog: