Last Updated on May 31, 2023 by Dexter Roona
We bring news on the new Gremlins: Gizmo and Stripe Blacklight Funko Pops! We have all the news on these cool new Pops and the best online retailers to buy them from.
The latest additions to the Gremlins Funko Pop! list, have arrived with these new Gizmo, and Stripe Blacklight Funko Pops. These vibrant and eye-catching Funkos are a must-have for any Gremlins or pop culture fan.
With their mesmerizing blacklight effect, these Pops bring a whole new level of excitement to your Gremlins Funko Pop Vinyl collection.
The Gremlins Blacklight Funko Pops become very special under UV light, coming to life with vibrant colors and an otherworldly glow.
It's a truly mesmerizing sight that will impress both fans and casual observers alike.
These Gizmo and Stripe Gremlins Blacklight Funko Pops will definitely be the center of attention in your collection.
NB: This new Gremlins: Gizmo and Stripe Blacklight Funko Pops! article contains product affiliate links. If you click a link then AFG may make a very small commission at no cost to you.
1420 Gremlins Gizmo Blacklight Funko Pop! Entertainment Earth Exclusive
First and foremost, let's talk about Gizmo. This adorable Mogwai has captured the hearts of fans since his first appearance in the original Gremlins movie. Now, with the Blacklight edition, Gizmo shines like never before.
The blacklight reactive paint brings out a stunning array of colors, making Gizmo a true standout on your display shelf.
It's as if he's come to life straight from the screen!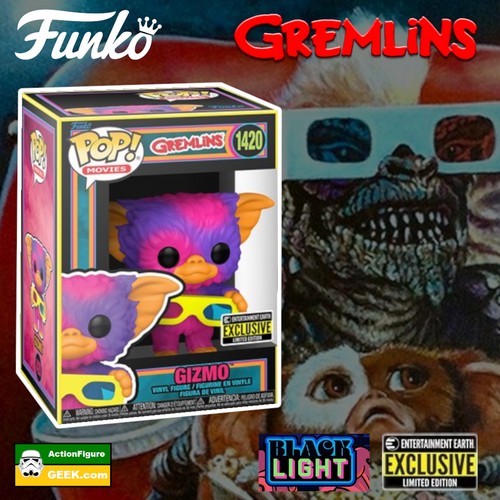 Price Check – Entertainment Earth
Price Check – eBay and eBay UK
1421 Gremlins Stripe Blacklight Funko Pop! Entertainment Earth Exclusive
Stripe, is the mischievous leader of the Gremlins.
This iconic character is known for his devious nature and distinctive appearance.
The 1421 Gremlins Blacklight edition of Stripe takes his menacing look to a whole new level. With the blacklight reactive paint, Stripe's green skin and fiery red eyes glow eerily, giving him an even more sinister presence.
He's the perfect addition to your Gremlins collection, adding a touch of darkness and intrigue.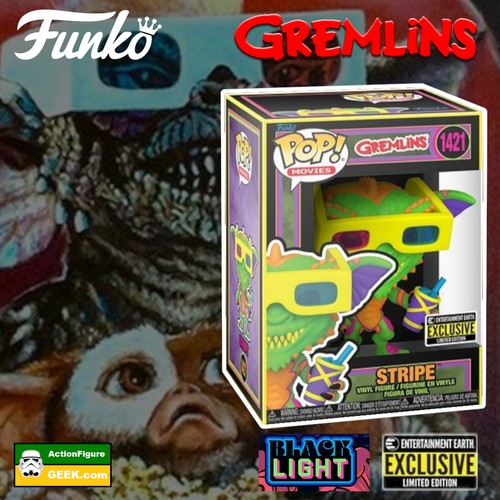 Price Check – Entertainment Earth
Price Check – eBay and eBay UK
Gremlins: The Magical Mayhem that Spawned a Franchise
Gremlins is a classic horror-comedy film directed by Joe Dante and was released in 1984. The movie captured the imaginations of audiences worldwide.
Starring Zach Galligan as the protagonist, Billy Peltzer, and featuring a lovable and mischievous creature called Gizmo, the movie quickly became a pop culture phenomenon.
The story of Gremlins revolves around a young man named Billy who receives a mysterious creature called a Mogwai as a Christmas gift. Named Gizmo, this adorable creature comes with three important rules: avoid bright lights, don't get him wet, and never, ever feed him after midnight.
Unfortunately, Billy inadvertently breaks these rules, triggering a series of chaotic events that turn Gizmo into a handful of menacing creatures known as Gremlins.
Directed by Joe Dante, Gremlins combines elements of horror, comedy, and fantasy to create a unique and thrilling experience. Dante masterfully blends suspenseful scenes with humorous moments, keeping the audience on the edge of their seats while also providing moments of comic relief. The film strikes a delicate balance between dark and light, showcasing Dante's ability to navigate different genres with finesse.
The cast of Gremlins features memorable performances from Zach Galligan as the endearing Billy Peltzer and Phoebe Cates as Kate Beringer, Billy's love interest. The chemistry between the actors adds depth to their characters, making the audience emotionally invested in their journey. Moreover, the creatures themselves, including the adorable Gizmo and the mischievous leader Stripe, are brought to life through impressive puppetry and animatronics.
When Gremlins hit theaters, it became an instant success, captivating audiences of all ages. The film's unique blend of horror and humor resonated with viewers, making it a box office sensation. Gremlins grossed over $153 million worldwide, cementing its status as a commercial success. Its popularity spawned a franchise that includes a sequel, Gremlins 2: The New Batch, released in 1990.
Beyond its financial success, Gremlins also left a lasting cultural impact. The film introduced the concept of the Gremlins themselves, mischievous creatures that wreak havoc, spawning countless imitations in the years that followed. The movie's iconic scenes, such as the Gremlins causing chaos in a small town during Christmas, have become synonymous with the holiday season for many fans.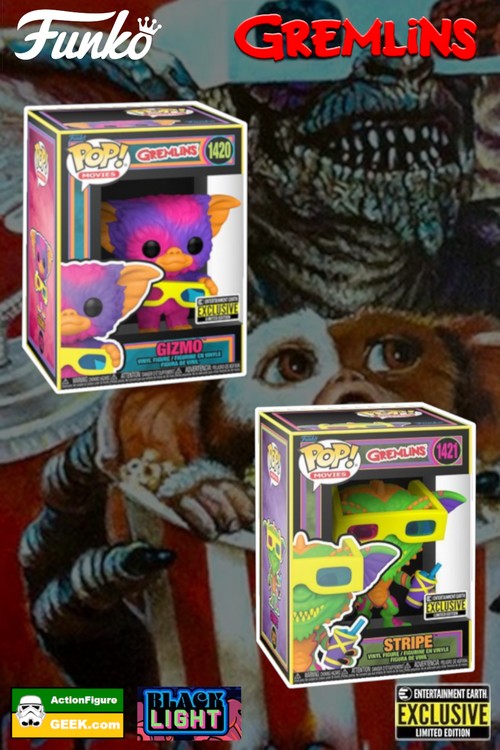 Related Movie Funko Pop Articles: