Last Updated on November 22, 2022 by Dexter Roona
Today we return to the My Hero Academia anime with the new MHA Tetsutetsu Tetsutetsu Funko Pop! Hot Topic Exclusive and Special Edition. Here is everything you need to know about this new My Hero Tetsutetsu Tetsutetsu Class 1B Funko, his quirks, and the best online Funko Pop retailers to buy him from. Keep reading until the end because we have a very cool 10% discount that we can pass on to you for Entertainment Earth.
Tetsutetsu Tetsutetsu aka Real Steel is a powerful student in Class 1-B at U.A. High School. His quirk is that he can turn his skin into steel.
His MA hero costume consists of a dark green jumpsuit, that cuts off below his chest, baggy trousers, and black boots. The boots have metal soles and heels, with additional front plating.
He has a metal jaw-guard that carries the letters "Fe" (the chemical symbol for Iron) on each side of his face.
NB: This Tetsutetsu Funko Pop Hot Topic Exclusive article contains product affiliate links. If you click a link and make a purchase then AFG may make a very small commission at no cost to you.
1148 My Hero Academia: Tetsutetsu Tetsutetsu Funko Pop Hot Topic Exclusive and Special Edition
The image below shows 1148 My Hero Academia: Tetsutetsu Tetsutetsu Funko Pop Hot Topic Exclusive. There is also an overseas Special Edition, exactly the same Pop just a different Funko Sticker.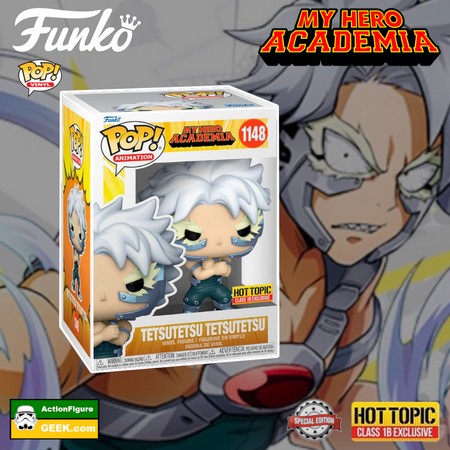 Shop for the

My Hero Academia: Tetsutetsu Tetsutetsu Funko Pop Hot Topic Exclusive and Special Edition at
Buy MHA Funko Pops and Sodas at
Tetsutetsu has an outspoken personality. Some would say that he can be a little hot-headed at times. He is very vocal about his intentions and also looks for the simplest solution to the given predicament.  Tetsutetsu is extremely determined and always desires to show the same skill level as Class 1-A Students.
Tetsutetsu's fighting style is very straightforward and a bit on the reckless side choosing to counterattack after taking hits from his opponent's hits. His Steel quirk gives him a great defensive ability. When his quirk is activated he gets hardened skin that is so tough even bullets cannot pierce it. He is also able to turn himself into a human shield for protecting his allies or defenseless civilians. He also has a very strong resistance to both extreme heat and cold.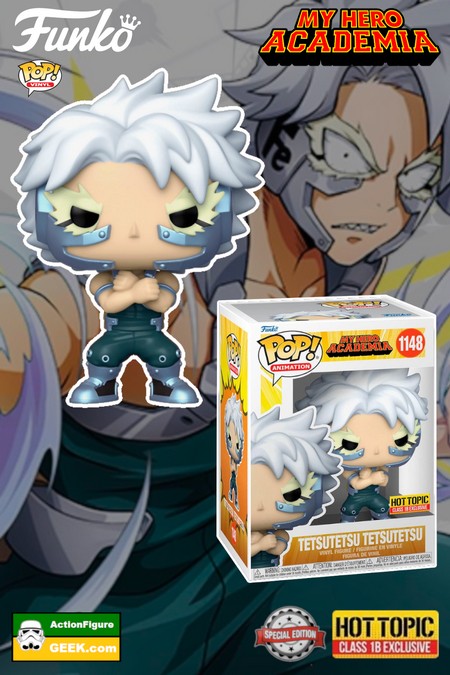 Are you a My Hero Academia fan?
Will you be adding this new Tetsutetsu Tetsutetsu Hot Topic Exclusive Funko to your other My Hero Academia Funko Pops?
Which other anime Pops do you like?
I really like the Frieza Final Form T-Shirt 2-pack and the Boruto Hokage Rock Funko Pops are great as well. And I have to give a special mention to the MHA Deku in Gloves Funko.
But what about you?
Let me know what you like in the comments below.
Regards
AFG
Looking to add some new Anime Funko Pops to your growing collection?  Now you can get a 10% discount on all in-stock items at Entertainment Earth and free postage on orders over $39.99 with our special AFGEEK Entertainment Earth Discount.