Last Updated on September 6, 2022 by Dexter Roona
Funko has been busy producing MHA Pops with this new Tomura Shigaraki Funko Pop Entertainment Earth Exclusive being the latest.
Let's take a closer look at the Tomura Shigaraki Funko, give you some background for the character, and offer you the best places to buy this cool anime collectible online.
My Hero Academia Tomura Shigaraki Funko Pop Entertainment Earth Exclusive
Following on from the My Hero Academia Juzo Honenuki Hot Topic Exclusive Funko brings us the very cool 1149 My Hero Academia Tomura Shigaraki Funko Pop Entertainment Earth Exclusive.
The MHA Anime series is unquestionably one of the best anime series to be produced and the related My Hero Academia Pops really do the anime justice and this Tomura Shigaraki Funko is no exception.
This cool MHA Pop is available as a common and chase variant. Both versions are Entertainment Earth Exclusives and can be purchased on the link below: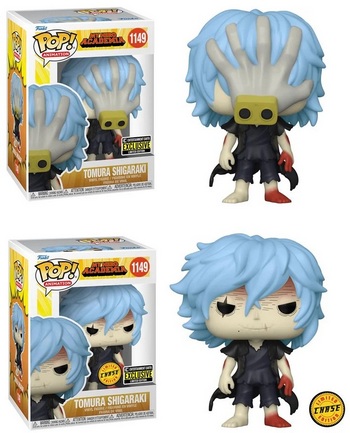 Don't let Tomura Shigaraki's unassuming appearance fool you
This guy is the leader of the League of Villains and he is dangerous. His Quirk is called Decay and when he touches something it literally decays and disintegrates.
He enjoys watching everything fall apart in front of him. Tomura Shigaraki delights in chaos and destruction.
Shigaraki is Nana Shimura's grandson, the former bearer of the One for All. But why did the grandson of a great heroine become the bad guy?
Tenko's father was an imposing character who hated and despised the world of heroism, oppressing him greatly. He grew up surrounded by hatred. His quirk emerged in a moment of anger and sadness. His parents and sister sought to comfort but on touching him they disintegrated and were decomposed.
All for One found Tomura Shigaraki alone in the world and adopted him.
Shigaraki became a disciple of All for One whose influence only served to increase Tomura's hatred for heroes.
He wears the hands of his dead family that he killed after his quirk first manifested serving to symbolize his transformation into Tomura Shigaraki. All for One created the hand attachments for Tomura as a reminder of the bloodlust that fuels him.
Tomura Shigaraki's Quirk allows him to decompose everything his hand touches, but only works when all his five fingers touch the object, allowing him to only destroy what he really wants to destroy.
Are you an MHA fan?
Will you be buying 1149 My Hero Academia Tomura Shigaraki Funko Pop Entertainment Earth Exclusive?
Which other anime Pops do you like? The Demon Slayer Pops and Fairy Tail Pops are favorites of ours and a special mention to the new 2022 Cowboy Bebop Pops.
Let us know in the comments, we would love to hear from you.
Regards 
AFG