Last Updated on September 6, 2022 by Dexter Roona
The My Hero Academia Funko Pop series continues to grow with the release of a host of new Funko Pops and Keychains.
Great news if you are a Pop Anime fan and a fan of My Hero Academia. With the fan-favorite anime series now moving into a 6th series, there is now a new wave of MHA Pops and Keychains to purchase and collect that are highly detailed and accurate to the show.
My Hero Academia (MHA) is an extremely popular Japanese superhero anime and manga series, with the manga written and illustrated by the talented Kōhei Horikoshi whose other work includes the shōnen manga series Ōmagadoki Dōbutsuen, Barrage.
My Hero Academia
My Hero Academia is set in a world where a majority of the population is born with quirks, the equivalent of superpowers.
The story centers around Izuku Midoriya aka Deku, a regular boy who dreams of becoming a superhero unfortunately he does not possesses a quirk. Deku crosses paths with Japan's number one hero and his personal idol, All Might, and is chosen to be All Might's successor.  This results in Deku being accepted into the prestigious hero academy, U.A. High School. My Hero Academia is an inspirational story about following your dreams and never giving up on them.
The new My Hero Academia Funko Pops and MHA Keychains released include several new MHA Funko Pop and some cool Pop keychains.
There is a large 6-inch super-sized version of Gigantomachia, a massive 18-inch mega-sized version of All Might which you will want to buy if you have the space in your collection, and a really cool Todoroki family 2-pack featuring the ever-popular Shoto and Endeavor. Characters that get the regular size Pop treatment include, Jiro, Aoyama, Hawks, and Yoarashi.
There is also a very nice Gentle Criminal and La Brava 2-pack 2022 Anime Expo Exclusive to hunt down and more.
NB: This MHA Pop article does contain affiliate links. If you click a link and make a purchase then AFG may make a very small commission at no cost to you.
Buy MHA Funko Pops and Keychains from
New My Hero Academia Funko Pops and MHA Keychains
Here are all the new MHA Pops and Keychains that we know about.
The first image brings us all new versions of our fav MHA characters:
1141 Hawks
1142 Fat Gum (Slim Form)
1143 Kyoka Jirou
1144 Yuga Aoyama
1145 Inasa Yoarashi
Next, we have the Mega-Sized All Might Gamestop Exclusive standing an impressive 18 inches tall.
The only question you have to consider when buying this giant Pop is have you got the space for him.
There is also a really cool Funimation Exclusive 2-pack of Todoroki and Endeavor, a flocked version of  Hawks as a Chalice Collectibles Exclusive, and Ken Takagi Walmart Exclusive shown below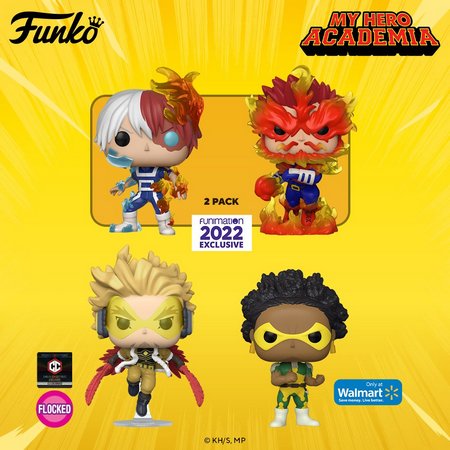 The next image shows us three new Keychains, Deku, Kyoka Jirou and Hawks, and new MHA Funko Pops:
Deku with Gloves (GITD) Funko Pop – Barnes and Nobles Exclusive
Kyoka Jirou with Guitar BAM Exclusive
Yuga Aoyama Diamond Diamond Collection Amazon Exclusive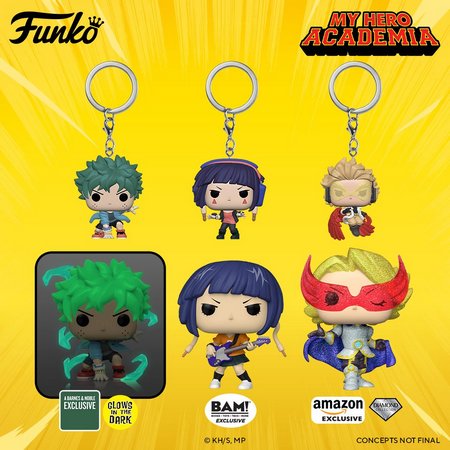 Below we have the 6-inch super-sized version of Gigantomachia.
Finally, we have the Gentle Criminal and La Brava 2-pack 2022 Anime Expo Exclusive

So there you have it…a new batch of MHA Funko Pops.
Will you be adding any of these new anime Pops to your collection?
Which other Anime Pop series do you like? Death Note… Attack on Titan…Naruto?
Let us know in the comments section below.
We would love to hear from you.
Regards 
AFG