Last Updated on June 26, 2023 by Dexter Roona
Hot on the heels of the new Mary Jane Watson Funko Pop! we have this awesome NEW Gwen Stacy Funko Pop! Entertainment Earth Exclusive figure to talk about. We have all the news on this cool new Pop and the best online retailers to buy this Marvel Spider-Man-related Pop!
Introducing the stunning and highly sought-after new Gwen Stacy Funko Pop! Entertainment Earth Exclusive. This exclusive captures the essence of one of Marvel's most iconic characters in a unique Funko collectible form.
The new Gwen Stacy Funko Pop! showcases the beloved character in her classic comic book appearance, radiating confidence and intelligence. Dressed in her signature attire, Gwen's stylish outfit is meticulously replicated, from her knee-length green coat and black top to her trendy black boots. Her flowing blonde hair cascades flawlessly, adding a touch of elegance to her captivating expression.
Don't miss out on the opportunity to own this extraordinary Gwen Stacy Funko Pop! Exclusive. Order now and add a touch of Marvel charm to your collection today!
NEW Gwen Stacy Funko Pop! Entertainment Earth Exclusive
Gwen Stacy looks awesome in her green coat, with her satchel over her shoulder, carrying her books.
This is a Pop that we really love here at AFG and one that we will be buying to add to our Spider-Man Funko Pop! Collection
This Gwen Stacy might be a bit hard to find for overseas buyers and collectors so, keep an eye out for a Funko Special Edition very soon.
Shopping Guide

Buy the new 1275 Gwen Stacy Funko Pop! at the following online retailers:

Price Check – Entertainment Earth

Price Check – eBay and eBay UK

Get a 10% discount at Entertainment Earth on all in stock items with our Entertainment Earth Discount.
Other Gwen Stacy Funko Pops
The new Gwen Stacy Funko Pop! Entertainment Earth Exclusive is not the first Gwen Stacy Pop! Vinyl figure to be released. Here are some of the others that you might have missed.
25 Spider Gwen Comic Cover Funko Pop!
Spider Gwen gets a Comic Cover Edtion with this cool Marvel Spider Gwen Comic Cover Funko Pop!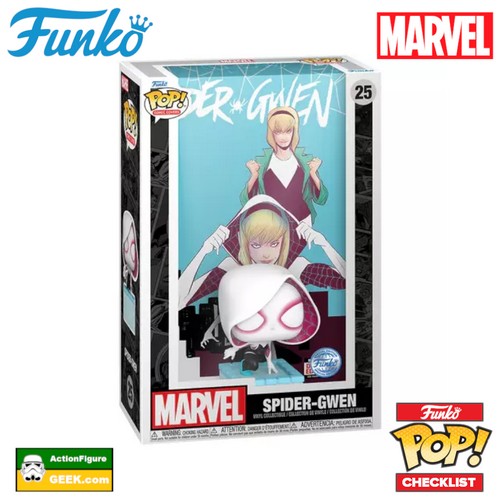 Price Check – eBay and eBay UK
146 Spider Gwen Funko Pop!
A very similar styled Gwen Pop to the previous Comic Cover Pop! and a better buy if space is an issue within your collection.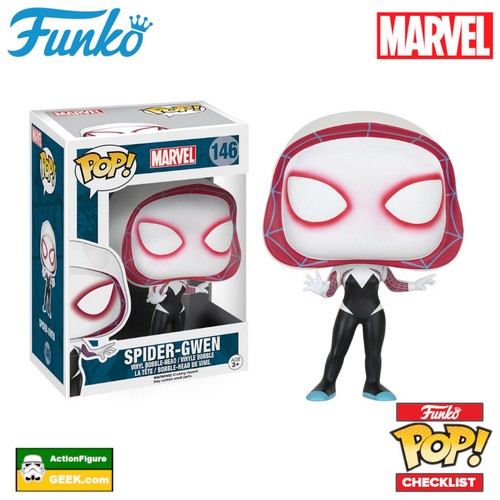 Price Check – eBay and eBay UK
1091 Spider Gwen Marvel Collectors Corps Funko Pop!
This really is a pretty awesome version of Spider Gwen and her Collectors Corps Exclusivity makes her even more collectible.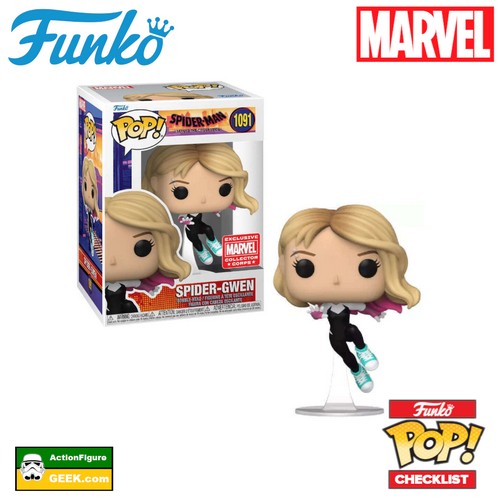 Price Check – eBay and eBay UK
1224 Spider Gwen – Across the Spider-Verse Funko Pop!
Spider-Gwen gets a modern update in the Spider-Verse franchise where she joins an impressive list of Across the Spider-Verse Funko Pops.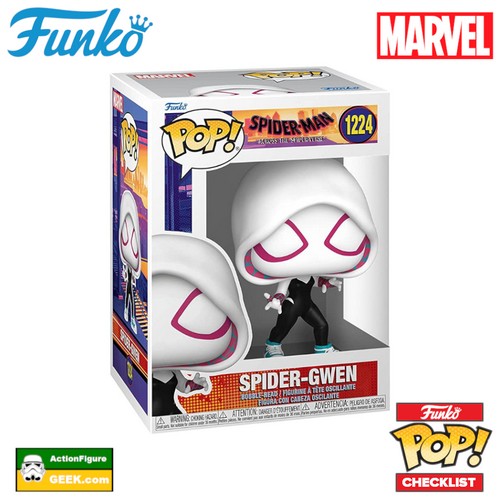 Price Check – eBay and eBay UK
1234 Gwen Stacy Across the Spider-Verse – Game Stop Exclusive and Special Edition
This cool Spider-Verse Gwen Stacy Funko Pop! is available as a GameStop Exclusive and also as a Funko Special Edition. Same Pops just different Stickers.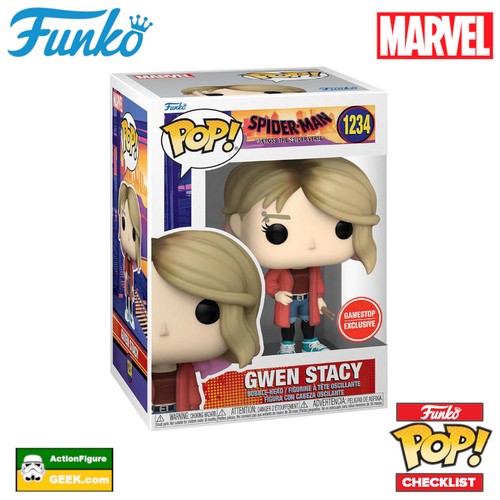 Price Check – eBay and eBay UK
Spider-Gwen & Spider-Woman (Blacklight) 2-Pack
Are there any Gwen Stacy – Spider Gwen Blacklight Funko Pops!
Yes, there are as you can see from this very cool Spider-Gwen and Spider-Woman Funko Pop 2-pack.
Unfortunately, there are no Spider-Gwen or Gwen Stacy Solo Blacklight Funko Pops.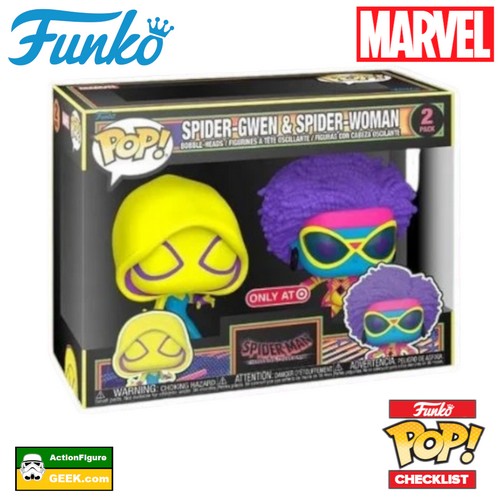 Price Check – eBay and eBay UK
Gwen Stacy and Peter Parker
Gwen Stacy was a classmate of Peter Parker at Empire State University. Gwen initially faced rejection from Peter due to his responsibilities as Spider-Man. But over time their relationship blossomed over and Gwen Stacy became Peter's first true love.
When Peter's Aunt May became ill, Peter tried hard to distance himself from his friends giving both Gwen and Harry Osborn the cold shoulder. Gwen's frustrations began to grow with Peter when he seemed totally unaware of her presence during a space exhibit. On that same trip, a masked villain named the Looter attempted to steal a meteor exhibit. Peter disappeared into the background to transform into Spider-Man to save the day but unaware of who Peter was Gwen accused Peter of being a coward and running away.
When Flash Thompson was drafted to the army, Gwen and her friends organized a going-away party for him. Gwen invited Peter, who was struggling with depression over his aunt's illness to lift his spirits. Their relationship faced challenges when Peter's secret as Spider-Man was exposed during an attack by Doctor Octopus. NYPD Captain George Stacy, Gwen's father accused Peter of attacking him, causing a rift between Peter and Gwen. When George's memories returned, he revealed that Peter never attacked him.
Despite misunderstandings and conflicts, Peter and Gwen repaired their relationship. They faced countless challenges, including encounters with villains such as the Shocker and the Chameleon.
Peter's financial struggles and his inability to reveal his secret identity also put a huge amount of strain on their relationship, leading to moments of jealousy and frustration between the pair
Despite their ups and downs, Peter and Gwen continued to care for each other. But, their story took a heartbreaking turn when Gwen was killed during a confrontation with the Green Goblin.
When Gwen gets caught up in the middle of a fight between Spider-Man and the Green Goblin. She takes a tragic fall that Spider-Man is unable to save her from. An event that Spider-Man blames himself for.
The tragic loss of Gwen Stacy had a deeply profound impact on Peter and became a defining moment in his life as a superhero.
But Gwen Stacy was to get a makeover with the release of the Spider-Man Spiderverse Franchise appearing alongside Miles Morales.
Gwen Stacy's comic book history showcases the evolution of her relationship with Peter Parker. From initial rejection and misunderstandings to deep and passionate love.
Her tragic death left a lasting impact on the Spider-Man mythos and continues to be a significant part of the character's history.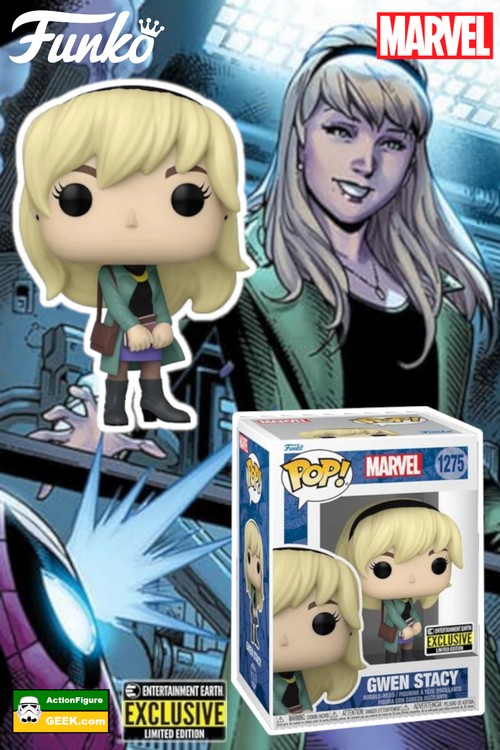 Related Funko Pop! Articles:
From the AFGeek Blog: