Last Updated on July 23, 2023 by Dexter Roona
Today we bring news on the new and highly collectible WWE – Johnny Knoxville Funko Pop! SDCC and Amazon Exclusive. We have all the news on this new Funko release including the best online retailers to buy him from.
Introducing the new Johnny Knoxville Royal Rumble 2023 SDCC Exclusive and shared Amazon Exclusive. The ring announcer is ready to announce the newest addition to your WWE collection with the exciting new WWE: Johnny Knoxville Royal Rumble Funko Pop! vinyl figure, making its exclusive debut just in time for SDCC 2023, (also a shared Amazon Exclusive).
This unique WWE Funko captures all the bold energy and audacious spirit that Johnny Knoxville displayed during his memorable appearance in the Royal Rumble that promises to infuse any WWE collection with a refreshing and exhilarating twist.
Whether you're a dedicated Funko Pop! collector or an admirer of Johnny Knoxville's daring career, or simply seeking the thrill of owning an exclusive Funko Pop!, this figure of Knoxville is an absolute must-have.
NB: This NEW WWE – Johnny Knoxville Funko Pop! SDCC and Amazon Exclusive article contains product affiliate links. If you click a link and make a purchase then AFG may make a very small commission at no cost to you.
Coming to the ring we have the NEW WWE – Johnny Knoxville Funko Pop! SDCC and Amazon Exclusive
Get ready to witness Johnny Knoxville transform your collection into his personal wrestling ring!
This Johnny Knoxville WWE Pop! features Johnny in his signature Wrestling uniform, a white shirt featuring the red JK logo red elbow pads, red shorts, and red knee pads. He wears black glasses and has quite striking silver/grey hair.
Shopping Guide
Johnny Knoxville, not just a regular Jackass!
Born as P.J. Clapp, Knoxville's quest for a more captivating identity led him to adopt the name "Johnny Knoxville," a combination of his middle name and the city of his upbringing, Knoxville, Tennessee.
With a passion for entertaining from a young age, he pursued his dreams in California, aspiring to become an actor. However, it was in the realm of daring stunts and comedic pranks that he found his true calling.
His fearless and distinctive sense of humor caught the attention of Jeff Tremaine, editor of Big Brother magazine, and soon MTV and Comedy Central vied for the chance to showcase his talents.
MTV emerged victorious, and Knoxville was catapulted into stardom with the iconic show "Jackass," redefining physical comedy for a new generation.
Yet, Knoxville's journey didn't stop there. In a surprising turn of events, he ventured into the wrestling world, boldly declaring that he would conquer WWE's prestigious Royal Rumble.
While his entry into the ring and electrifying presence were remarkable, Knoxville faced formidable opponents like AJ Styles and Montez Ford.
Ultimately, his stint ended with a boot to the face courtesy of Sami Zayn.
Is it time to add the NEW WWE – Johnny Knoxville Funko Pop! SDCC and Amazon Exclusive to your collection?
Price Check – Amazon and Amazon UK
Price Check – eBay and eBay UK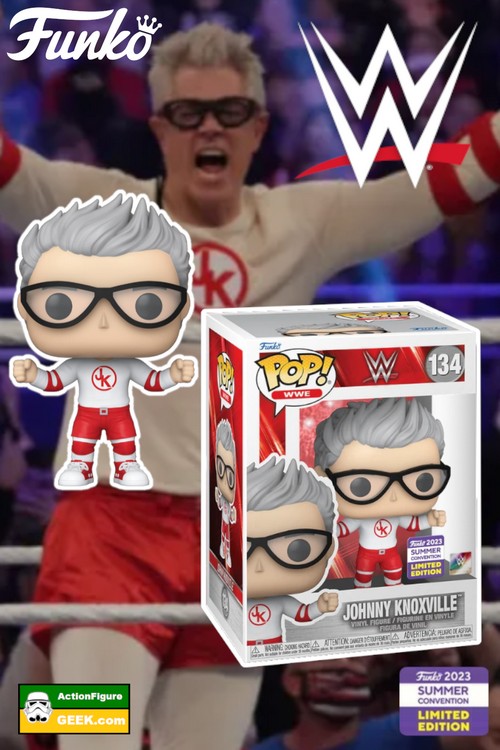 Related Funko Pop! Articles: