Last Updated on January 21, 2023 by Dexter Roona
This new Demon Slayer- Kimetsu no Yaiba Sanemi Shinazugawa Funko Pop! Funko Shop Exclusive is part of this year's 2023 Funko Fair. We have all the inside info you need on this cool new vinyl collectible including the best online retailers to buy it from.
Sanemi Shinazugawa is one cool dude. He's super strong,  extremely determined in everything he does and he is trustworthy and loyal making him a firm Demon Slayer Fan favorite. And now, you can add him to your Demon Slayer Funko Pop Figures that you already own.
If you are a Demon Slayer fan and you are looking to treat yourself then the new Sanemi Shinazugawa Funko Pop Funko Shop Funko Fair Exclusive is the perfect gift for yourself.
NB: Disclaimer – This new Hagrid's Hut Funko Pop! Deluxe Movie Moment set article contains product affiliate links. If you click a link and make a purchase then AFG may make a very small commission at no cost to you.
Sanemi Shinazugawa Funko Pop! Demon Slayer – Funko Shop Exclusive – Funko Fair 2023
This new Sanemi Shinazugawa Funko Pop! is a highly detailed vinyl figure that captures Sanemi Shinazugawa's wild and fearless side.
With his angry battle-hardened expression and wild hair and holding his Nichirin Green Blade he is a Pop that all anime Pop fans should own.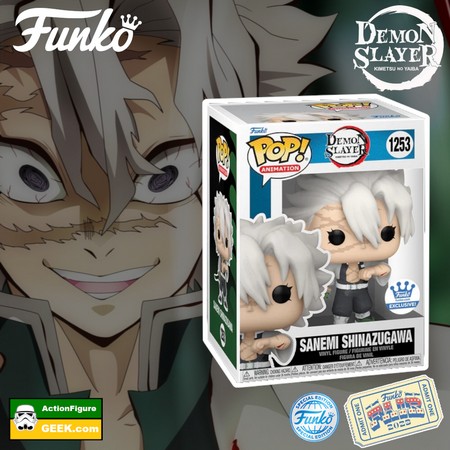 Shopping Guide
Buy the Sanemi Shinazugawa Funko Pop! (Funko Fair 2023) at

Get a 10% discount on all in-stock items and free postage on all orders over $39.99 at Entertainment Earth by using our special AFGEEK discount. If you would like to know more about this discount then please refer to our Entertainment Earth Discount page.
Sanemi Shinazugawa is a highly valued member of the Demon Slayer Corps, where he fights to protect humanity from evil demons with his mighty sword and accomplished fighting skills.
Sanemi's story began after he found out the truth that his loving parents and younger sister were brutally killed by a demon when he himself was just a child.
These sad events motivated Sanemi to join the Demon Slayer Corps to fight demons and protect others from having to suffer similar devastating experiences to him.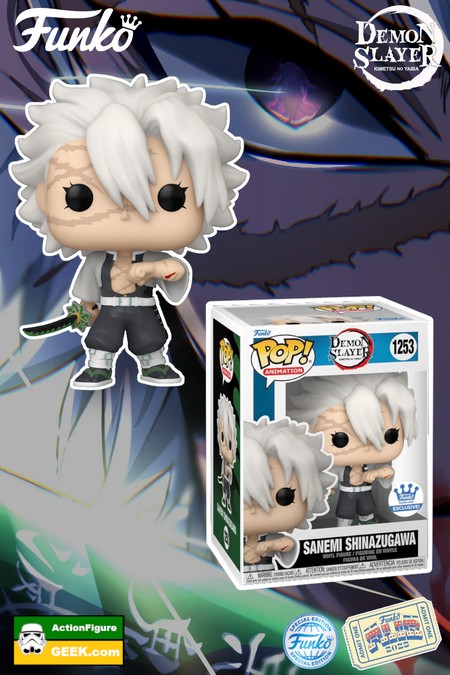 Are you a Demon Slayer fan?
Will you be adding this new Sanemi Shinazugawa Funko Pop – Funko Fair 2023 release to your collection?
Which other Pops do you like?
I am a big fan of the Funko Fair Hagrid's Hut Funko Pop and the Disney Princess Mulan Funko Pop with Pin.
But what do you like?
Let me know in the comments section below.
Regards
AFG