Last Updated on October 17, 2022 by Dexter Roona
Funko gives us a glimpse of Marvel Studios' Secret Invasion in Funko firm with this Secret Invasion Nick Fury Funko Pop Vinyl Figure  NYCC 2022 and Funko Shop Exclusive. Here is everything you need to know about this new Funko Collectible and where you can pick one up for your collection.
Marvel's Secret Invasion  mini-series will be released sometime in the Spring of  2023 after the release of Ant-Man and the Wasp: Quantumania on February 17, 2023 (we look forward to those Pops)
This new Secret Invasion Nick Fury NYCC and Funko Shop Exclusive give us an early glimpse of how Nick Fury will look in the new Disney+ mini-series.
NB: This new Secret Invasion Nick Fury NYCC Frightmare on Fun Street, Funko Shop Exclusive article does contain affiliate links. If you click a link and make a purchase then AFG may make a very small commission at no cost to you.
Shop Secret Invasion Mech at
Funko Pop Secret Invasion – Nick Fury Funko Pop New York Comic Con (NYCC) Frightmare on Fun Street and Funko Shop Exclusive
We are used to seeing Nick Fury in his black overcoat and eye patch, but the new Funko Exclusive gives us a version of Nick Fury that shows the damage inflicted on Nick Fury's eye by the Flerken in Captain Marvel. He is showing his bare left eye while wearing a brown jacket, green pants, boots, gloves, and a beanie hat. He is looking much older and weathered with his gray beard.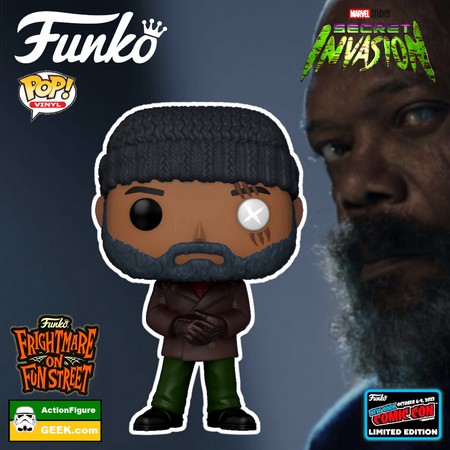 ShopSecret Invasion – Nick Fury Funko Pop at:
Funko Pop Secret Invasion Nick Fury New York Comic-Con 2022 Exclusive and Funko Shop Exclusive
The Secret Invasion storyline follows that of Captain Marvel when Nick Fury discovers the existence of the Skrulls. The Skrull are shapeshifter aliens led by Talos.
We last saw Nick Fury in Spider-Man Far from home where Nick Fury seeks out the help of Peter Parker. As events unfold we discover that Nick Fury looking to recruit Peter is in fact a Skrull.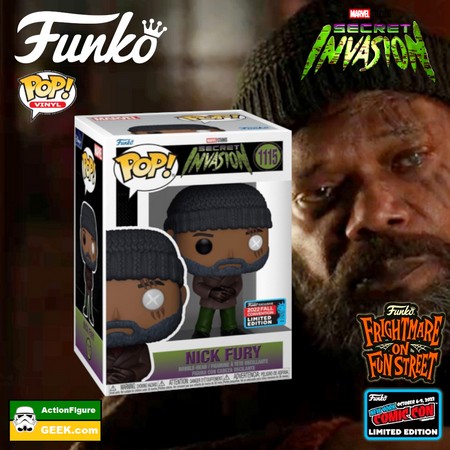 ShopSecret Invasion – Nick Fury Funko Pop at:
The new Secret Invasion mini-series depicts the Skrulls infiltrating Earth and will be comprised of six episodes that will exclusively premiere on Disney+.
The cast includes Ben Mendelsohn, reprising the role of Talos. Cobie Smulders, returns as Maria Hill. Don Cheadle plays the James Rhoades. There are also MCU debuts for Kingsley Ben-Adir, Olivia Colman, and Emilia Clarke.
It is interesting that this Secret Invasion Nick Fury Pop is both a joint New York Comic Con release and a Funko Shop Exclusive.
Does having a Funko Shop Exclusive release weaken the collectibility of the NYCC?
Are you looking forward to the release of Secret Invasion?
Which other Marvel Series have you watched?
These series have spawned some great Funko Pops. I really like the She-Hulk Funko Pops and particularly the She-Hulk in Spandex Funko Pop also the Nightcrawler Teleporting GITD Funko Pop is very cool.
But which Disney series Pops do you like? Let me know in the comments section below.
Regards
AFG