Last Updated on October 14, 2022 by Dexter Roona
The She-Hulk Funko Pops continue to drop with the new She-Hulk Gala Funko Pop. Here is everything that you need to know about this cool Marvel collectible, the best online retailers to buy her from, and accompanying images. So keep reading for a 10% discount on all in-stock items at Entertainment Earth;-)
Please Note – SPOILERS AHEAD!
This new version of She-Hulk is taken from the very end scenes of She-Hulk Attorney at Law Episode 8 titled "Ribbit and Rip It"
In this episode, Jen is put in the difficult situation of having to defend Eugene Patilioaka who has taken out a lawsuit against Luke Jacobson the tailor Jen was introduced to make her superhero outfits. Jen's wannabe superhero client is claiming that his commissioned costume was poorly made and substandard and really not of the quality he had paid for. This upsets Luke who vows never to make clothing again for Jen again which is a problem because Luke is making Jen's lawyer awards gala dress that we see depicted in vinyl form with the She-Hulk Gala Funko Pop.
The court day arrives and Jen is going for another win until Luke Jacobson's lawyer arrives, none other than Matt Murdoch!
Jennifer and Matt go head-to-head in court with Jen losing.
Jen's client Eugene Patilioaka aka Frog-Man takes matters into his own hands and decides to kidnap Josh.
Jen takes a call from Eugene, who is being pursued by a masked vigilante. Jen is forced to suit up to come to his aid as She-Hulk. This of course leads to the long-awaited and highly anticipated introduction of Daredevil.
NB: This new 1127 She-Hulk Gala Dress Glitter Funko Pop article does contain product affiliate links. If you click a link and make a purchase then Action Figure Geek may make a very small commission at no cost to you.
1127 She-Hulk Gala Glitter Funko Pop
She-Hulk looks ready for any red-carpet event in her Glitter Gala Gown. This is a Pop that I didn't really like until I watched episode 8 and now I find that it is one that I want.  The She-Hulk Gala Dress Glitter Funko Pop really will stand out in your collection and you don't get many Pops that carry that Funko Glitter Sticker.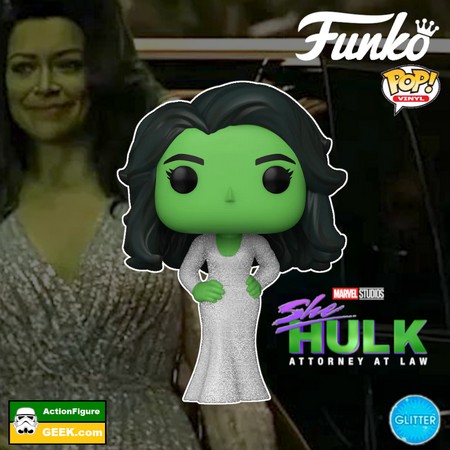 Shop for the She-Hulk Gala Glitter Funko Pop at

eBay

and

eBay UK
She-Hulk and Matt Murdoch
There are some great moments in Attorney at Law, Matt Murdoch's entrance into the courtroom, the face-off between Daredevil and She-Hulk, and the walk of shame that Daredevil makes when leaving Jen's apartment.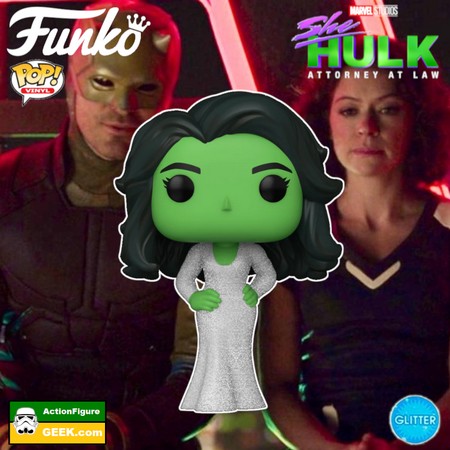 These all lead us nicely to the point where Jen wears her Glitter Gala gown depicted in glorious vinyl form by 127 She-Hulk Gala Dress Glitter Funko Pop on stage at the awards ceremony. All is good again.
But things take a sinister turn when the big screens behind She-Hulk are hacked and Jen's life is cruelly displayed all over them. Distorted commentary plays sinisterly stating that Jen is not who you think she is and that she is undeserving of her Hulk powers. A video plays of her having sex and she is publicly slut shamed.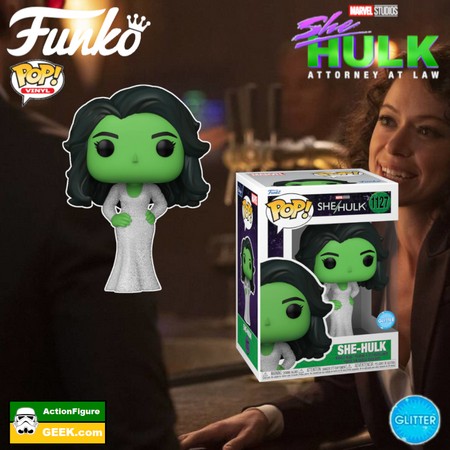 She-Hulk reacts badly by smashing the big screens and going full Hulk Smash mode, breaking through walls. The episode closes with Jen surrounded by armed police taking us nicely into the season finale.
This was a cool episode of She-Hulk! We now wait for the arrival of Daredevil in Yellow Mask Funko and Frogman.
SHOP She-Hulk Pops at 
Are you a She-Hulk Attorney at Law fan?
Have you purchased any of the She-Hulk Pops for the series?
Which other Marvel Pops do you like? I really like the new Teleporting Nightcrawler Funko Pop and also the Guardians of the Galaxy Holiday Season Funko Pops are great as well. And away from Marvel, I have to give a shout-out to the Boba Fett Comic Cover Pop and the Attack On Titan Female Titan Pop.
But I want to hear from you.
What do you collect?  Which series do you watch that as of yet doesn't have Pops that you wish did?
Let me know in the comments section below.
And as promised here is your 10% Discount at Entertainment Earth on all In-stock items and free postage on all domestic US orders over $39.99
Regards
AFG