Last Updated on August 15, 2023 by Dexter Roona
Celebrating the release of the new Disney+ Ashoka Series we have a number of new Star Wars Black Series Action Figures one of which is today's chosen item, the new Star Wars The Black Series Hera Syndulla Action Figure. We have all the news on this cool new Star Wars Collectible including the best online retailers to buy it from.
Hera Syndulla is a female Twi'lek from the planet Ryloth who we know and love from the Disney XD animated series, Star Wars Rebels. She is the experienced captain of the cargo freight ship the Ghost, and also the guardian of the astromech droid known by the Ghost crew as Chopper.
She is a courageous leader, with piloting skills to match her courage, and unwavering commitment to the Rebel cause.
As a Twi'lek, Hera's distinct appearance is defined by her colorful green skin and head-tails, or lekku as they are also known. She serves as the beating heart of the Ghost crew, a small band of rebels fighting against all the odds against a vastly superior Galactic Empire.
As well as being a hugely talented pilot Hera is also a capable and strategic commander who values the members of the Ghost Crew.
Hera's leadership shows commitment to her crew's well-being and her unyielding determination to free the galaxy from tyranny. Her wisdom, resourcefulness, and willingness to make difficult decisions make her a role model for the crew.
Ashoka
Now fans get to follow her exploits in the new Disney+ Series named Ashoka where she teams up with Jedi Knight Ashoka Tano.
The Ashoka series is set after the demise and fall of the Empire during the Mandoverse and follows Ahsoka Tano as she investigates an emerging threat to a vulnerable galaxy.
Mandalorian fans will remember that Ahsoka's goal became quite clear during her epic The Mandalorian appearances. She made it very clear in fact that she was on the hunt for Grand Admiral Thrawn.
The Ashoka series looks set to be everything that Star Wars fans want and more and the new Star Wars Black Series 6-inch Ashoka action figures are everything that collectors are looking for from the live-action series.
NB: This NEW Star Wars The Black Series Hera Syndulla Action Figure – Ashoka Series article contains product affiliate links. If you click a link and buy a product then AFG may make a very small commission at no cost to you.
Star Wars The Black Series Hera Syndulla Action Figure – Ashoka Series
Hera Syndulla stands an impressive 6 inches tall and wears her pilot jacket and orange pants that remind me of the X-Wing pilot's pants.
There are not masses of accessories she comes with a single blaster.
Shopping Guide
This is not the first time that we have seen Hera Syndulla in the Black series.
There is also a very cool Hera Syndulla Black Series action figure that depicts Hera in her Star Wars Rebels days as seen below.
Price Check – Amazon and Amazon UK
Use our special discount code and receive a 10% discount on all Black Series Action Figures in-stock items.
Other Ashoka Black Series 6-inch Scale Action Figures
The Star Wars The Black Series Hera Syndulla Action Figure from the Ashoka Series is not the only figure released from the series.
Here are the others so far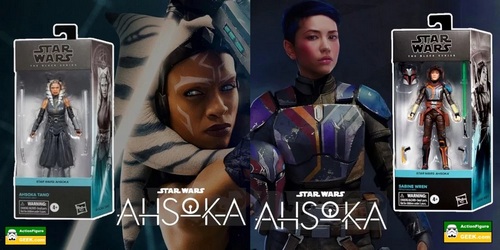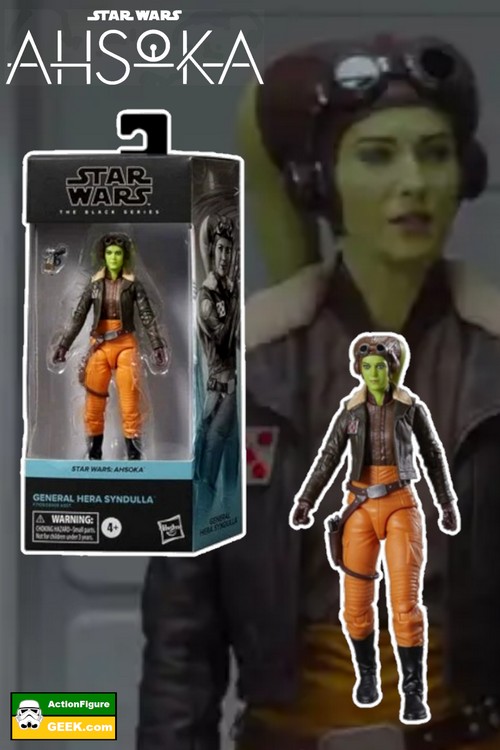 Related Action Figure Articles