Last Updated on November 22, 2023 by Dexter Roona
Today we bring news on the new Soldier Boy Funko Pop! GITD Funko Shop Exclusive joining The Boys Funko Pop! Checklist. We have all the news on this cool new Television Funko Pop including the best online retailers to buy them from.
This all-new Soldier Boy Funko Pop! is given a full-blown glow-in-the-dark makeover worthy of any Supe and is ready to join your The Boys Funko Pop! Collection.
Soldier Boy has been the hero and the villain and now is ready to come home with you and be a shining star in your Funko display.
NB: This Soldier Boy Vinyl Pop! article contains product affiliate links.
1408 The Boys – Soldier Boy Funko Pop! GITD Funko Shop Exclusive 
This new 1408 Soldier Boy Vinyl Funko Pop! is available as a GITD Funko Shop Exclusive and wears his full soldier uniform including his helmet. This is the second 1407 Soldier Boy Funko Pop! to appear in The Boys Funko Series with the previous basically being the same figure minus his helmet as seen below.
SHOPPING GUIDE
Soldier Boy, is one of the two main villains alongside Homelander in Season 3 of The Boys.
Homelander was created using the genetics of Soldier Boy making Soldier Boy the biological father of Homelander. He is also the leader of Payback, a superhero team of his own and led American Troops during World War II.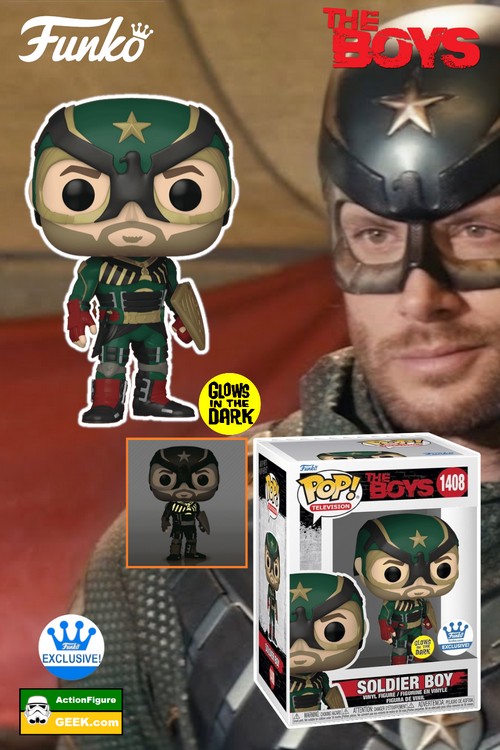 Related TV Funko Pop! Articles:
More from the AFGeek Blog: