Last Updated on August 10, 2023 by Dexter Roona
We return to the Funko Television Category with news on this pretty awesome The Simpsons – Nightmare Willie Funko Pop! Exclusive Vinyl Figure. We have all the news on this cool new Simpsons Pop! including the best online retailer to buy it from.
Are you scared of Spiders?
Well in the world of Simpsons Funko Pops, there can be nothing more chilling than the new Spider Nightmare Willie from the "Treehouse of Horror VI" episode. However, this incarnation of Groundskeeper Willie is no ordinary one; it takes the form of the feared Spider Willie, having captured none other than Bart Simpson.
Is Bart about to become a tasty snack? Well, you will have to watch the episode to find out. But in the meanwhile, let's take a closer look at the 1266 The Simpsons – Nightmare Willie 6-inch Funko Pop! Exclusive from the Treehouse of Horror VI.
NB: This new The Simpsons – Nightmare Willie Funko Pop! exclusive article contains product affiliate links. If you click a link and make a purchase then AFG may make a very small commission at no cost to you. Thank you for your support!
1266 The Simpsons – Nightmare Willie Funko Pop! Exclusive
Introducing the Simpsons Tree House of Horror: The 6-Inch Super-Sized Nightmare Willie Funko Pop!
There are some truly iconic moments in The Simpsons that deserve to be captured in Funko Pop form and that is exactly what has happened with this pretty awesome Spider Willie Funko Pop! Well, he is widely referred to as Spider Willie but as we know Spiders have 8 legs and Spider Willie has only 6?
When you look at this Spider-Nightmare Willie Pop! you can't help but look deeper at Willie's astonishing spider-like metamorphosis through to Bart's frozen expression of terror. Funko has captured Nightmare Willie expertly creating a Funko Pop that deserves a place in your collection.
Shopping Guide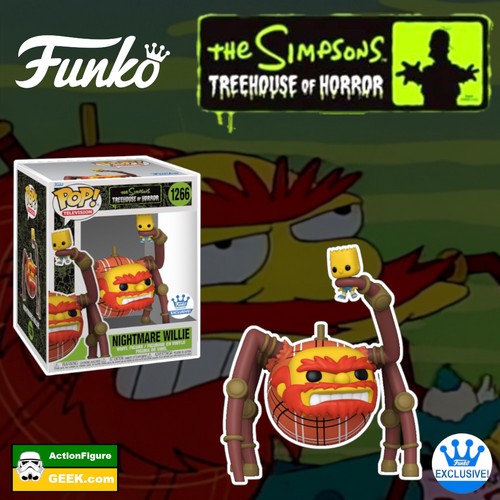 When Groundskeeper Willie Invades Your Nightmares
The "Treehouse of Horror" episodes are annual episodes where the series delves into the realms of horror and the supernatural in time for Halloween
These special episodes adopt a playful tone and lean on renowned horror franchises to create Simpson stories that equally balance amusement with horror.
And "Treehouse of Horror VI – Nightmare on Evergreen Terrace" a parody of "Nightmare on Elm Street" works to this tradition incredibly well.
In "Nightmare on Elm Street" irrational fears manifest into nightmares.
In "Treehouse of Horror VI – Nightmare on Evergreen Terrace" those nightmares refuse to dissolve when you wake up.
Groundskeeper Willie is a fan-favorite character who transforms into Springfield's latest "Treehouse of Horror" terror who is set on vengeance.
The episode brings a sharp blend of humor and perturbation as Bart's dream takes an eerie turn as Groundskeeper Willie metamorphoses into Springfield's version of Freddy Krueger.
Armed only with his trusty rake, Willie embarks on a mission.
Yet, as Bart awakes, his nightmare continues.
Other The Simpsons Willie Funko Pops
Here are the other Willie Funko Pops. So far there is just one other Pop! but what a great Simpsons Pop! it is.
824 Evil Groundskeeper Willie (Treehouse of Horror) – 2019 NYCCN and shared Hot Topic Exclusive
Groundskeeper Willie gets a full Freddy Kruger makeover complete with hat, rake and black and red striped jumper.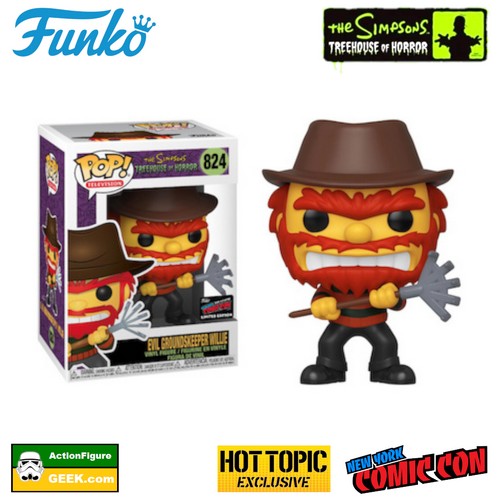 Price Check – eBay and eBay UK
Price Check – Amazon and Amazon UK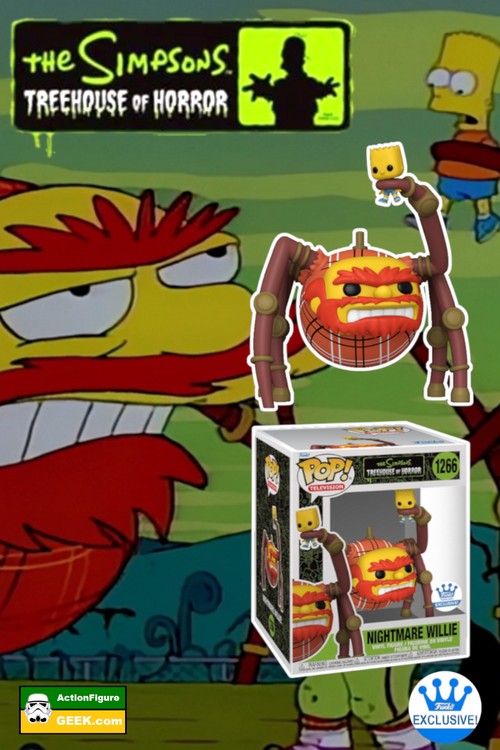 Related Television Funko Pop! Articles: