Last Updated on June 23, 2023 by Dexter Roona
We finally have a Ted Lasso Jamie Tartt Funko Pop! to report on with the new Ted Lasso Jamie Tartt Funko Pop! Target Exclusive Vinyl Figure. We have all you need to know about this cool AFC Richmond Pop! including the best online retailers to buy him from.
Jamie Tartt is a Striker for AFC Richmond and is renowned as the club's top player. He is the Jack Grealish of AFC Richmond.
Jamie is an exceptionally talented footballer but his self-centered nature often leads to conflicts with his teammates and those around him.
In the locker room at Nelson Road Stadium, Jamie holds considerable influence but has a history of refusing to participate in team bonding activities. But things start to change when he realizes the error of his ways.
Jamie begins to show and give more support to his teammates, Jamie had previously influenced players to tease and bully the club's kit man, Nathan Shelley. This behavior led to a confrontation between Jamie and the hard man of the team Roy Kent, with Roy standing up against the bullying.
NEW Ted Lasso Jamie Tartt Funko Pop! Target Exclusive
AFC Richmond striker and playmaker Jamie Tartt makes his first appearance in the Ted Lasso Pop! lineup as a highly collectible Target Exclusive. Overseas buyers and collectors should keep a keen eye out for a Funko Special Edition.
This new 1359 Jamie Tartt Funko Pop! Target Exclusive gives us a version of Jamie Tartt in his full AFC Richmond kit holding the green plastic soldier looking through binoculars with an arm raised.
This soldier was given to Jamie by Ted with a note acknowledging Jamie's growth and how far he has come and subsequently praising him for it.
Buy the NEW Ted Lasso Jamie Tartt Funko Pop! Target Exclusive at the following retailers:

Price Check – eBay and eBay UK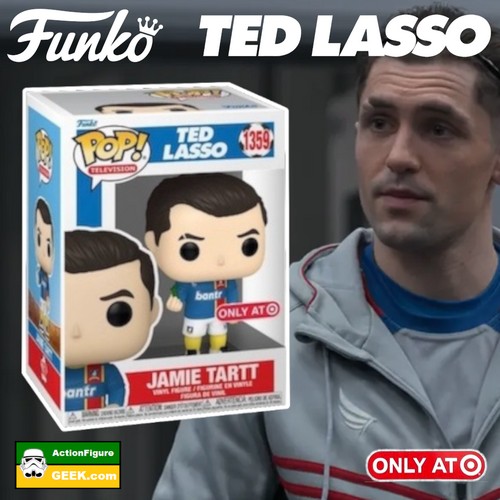 During one particular game…
Jamie played by Phil Dunster makes the match all about himself. His disrespectful behavior towards his teammates and particularly Sam Obisanya leads to an ugly heated confrontation with Roy on the field, shocking football commentators and the rest of the team.
Coach Ted is forced to take a bold step to teach Jamie a lesson by substituting the playmaker from the pitch.
Despite Jamie's anger and the crowd's disapproval of Ted's decision, Richmond still manages to win the game, proving that they can succeed without Jamie's negative distractions. This realization leaves Jamie questioning his future place at AFC Richmond.
During a press conference, Jamie's future with the team becomes even more uncertain when Ted suggests that Jamie's inclusion in the starting eleven depends on Jamie's willingness to meet the club's expectations.
Feeling betrayed, Jamie decides to skip a training session, leading to a further confrontation with Ted. Ted berates Jamie for his absence and assigns him the menial task of setting up practice cones for training as punishment.
Rebecca Welton, the club's owner played by Hannah Waddingham, decides to transfer him back to Manchester City.
Reality TV
Feeling lost, Jamie embarks on a reality TV career but faces disappointment when he is eliminated from a popular show. Seeking guidance, he reaches out to his former girlfriend Keeley, who advises him to approach his former coach, Ted.
Their meeting sparks rumors and social media attention that Jamie will return to AFC Richmond. Jamie does indeed join the Greyhounds but his teammates are less than happy to see him.
But during a training session, Jamie apologizes to them for his past behavior.
The team gradually embraces him and welcomes him back. Jamie realizes that he wants to become a better version of himself. With the support of his teammates, he sets about working toward redemption and finds unity within the club.
Related – NEW Ted Lasso with Teacup Funko Pop! Amazon Exclusive
Building Relationships
With renewed determination, Jamie recommits himself to AFC Richmond and begins to rebuild his relationships with his teammates. He shows humility, works hard during training sessions, and starts to contribute positively to the team's dynamics. He earns back the trust and respect of his fellow players, as they witness his genuine efforts to become a better person and teammate.
Jamie Tarrt becomes a pivotal player for AFC Richmond. His self-centered attitude transforms into a more team-based mindset. He learns the value of cooperation and supporting his fellow players and ultimately becomes a much better player.
Buy the NEW Ted Lasso Jamie Tartt Funko Pop! Target Exclusive at the following retailers:
Related Funko Pop! Articles:
From the AFGeek Blog: