Last Updated on June 22, 2023 by Dexter Roona
Today we are very happy to bring you news on the new NEW Ted Lasso with Teacup Funko Pop! Amazon Exclusive. We have all the news on this cool TV Funko Pop! and the best online retailers to buy him from.
If you are a devoted follower of the lovable and optimistic football coach just like us here at AFG then this new Ted Lasso with Tea Cup Amazon Exclusive Funko Pop! is an absolute treasure you won't want to miss.
With this new Ted Lasso Funko Pop! on your shelf, you can bring the feel-good vibes of the beloved Apple TV+ series right into your home. Whether you're a Funko collector or simply love the heartwarming characters of the hit series this limited-edition Amazon Exclusive Pop Vinyl is a testament to your love for all things Ted Lasso.
1356 Ted Lasso with Teacup Funko Pop! Amazon Exclusive
The new 1356 Ted Lasso with Teacup Amazon Exclusive Funko Pop! carries a great likeness to the AFC Richmond Coach.
From Ted's perfectly groomed and styled mustache to the teacup he is holding every element is meticulously crafted to capture the essence of this delightful character.
This Pop really is the perfect addition to your collection or a delightful gift for a fellow Ted Lasso aficionado and a great addition to the existing Ted Lasso Funko Pop! list of vinyl figures.
Price Check – Amazon and Amazon UK

Price Check – eBay and eBay UK

Buy Ted Lasso Funko Pops from Entertainment Earth
Don't miss out on this chance to celebrate your favorite coach and spread positivity within your collection with this charming collectible.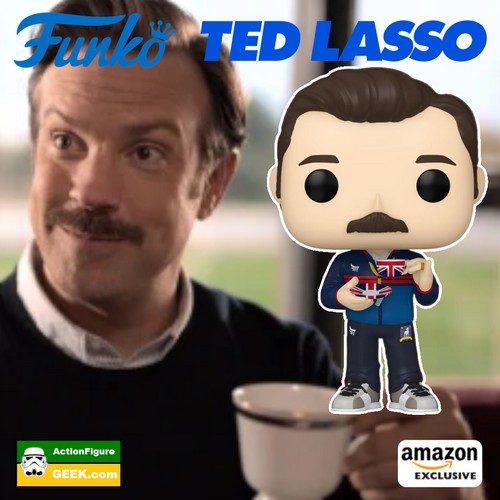 Ted Lasso
Ted Lasso is an immensely popular and heartwarming Apple TV television series. The show has captured the hearts of audiences around the world. It follows the life of Ted Lasso. Ted is a successful American college football coach who unexpectedly finds himself thrust into the world of English soccer (or football, as they call it across the pond).
It is revealed that he is brought into the job to fail!
With his relentless optimism, unwavering positivity, and unorthodox coaching methods, Ted Lasso takes on the daunting task of managing AFC Richmond, a struggling soccer team in England's top-tier league.
Ted really has no prior experience or knowledge in soccer and has to face numerous challenges. He has a seemingly an impossible task at hand. But with Ted's bright outlook on life, his infectious personality and genuine care for his players, he starts to win the team over and Rebecca the owner and gradually transform the team's dynamic.
Throughout the series, viewers are treated to a delightful blend of comedy, drama, and some very heartfelt moments as Ted Lasso navigates the complexities of managing a professional soccer team while also dealing with his personal life.
The show is not scared to explore themes of friendship, resilience, and the power of kindness, and wrapped it all up in a feel-good package that leaves viewers with a warm and fuzzy feeling inside.
Jason Sudeikis, brings Ted Lasso to life with his charismatic and endearing portrayal of the AFC Richmond Manager. The finished result is a series receiving critical acclaim for its refreshing comedy take on sports and its ability to strike an emotional chord with its audience.
Believe!
Ted Lasso is a true gem in the world of television. It is a show that reminds us of the transformative power of optimism and positivity and the importance of always embracing life's challenges with a smile no matter how hard they may seem.
It's a show that will make you laugh. It will shamelessly tug at your heartstrings.  And it will leave you eagerly awaiting each new episode.
We have enjoyed every moment of watching the show so it comes highly recommended from us here at ActionFigureGeek.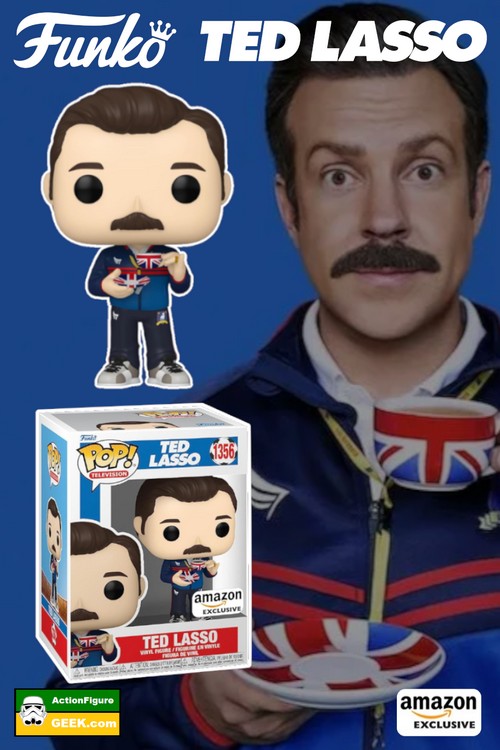 NB: This new Ted Lasso with Teacup Funko Pop! Amazon Exclusive article contains product affiliate links. If you click a link and make a purchase then AFG may make a very small commission at no cost to you.
Related Funko Pop! Articles: