Last Updated on January 25, 2023 by Dexter Roona
We have a new Ad Icons Funko Pop to talk about today in the form of this new McDonald's – Speedee Funko Pop! Funko Shop Exclusive. I have all the news and info on this new Funko Collectible, images, background on Speedee, and the best online retailers to pick this new Ad Icon McDonald's Funko Pop! up from.
The McDonald's hamburger logo Speedee has his own Funko Pop! in the form of a very cool Funko Shop Exclusive and he is just so cute.
This new Speedee Ad Icons Funko Pop is based on Speedee's iconic original design. He is wearing his signature chef's hat and has the biggest smile on his face and is giving us all a cheeky wink, and he looks great!
NB: Disclaimer – This new McDonald's – Speedee Funko Pop! Funko Shop Exclusive article contains some product affiliate links. If you click a link and make a purchase then AFG may make a very small commission at no cost to you. 
McDonald's – Speedee Funko Pop! Funko Shop Exclusive
Speedee really is a mascot that has been overlooked to some degree. We are all aware of Ronald McDonald, the king from Burger King, and Colonel Sanders but I have to admit I hadn't actually come across Speedee before even though he is the original McDonald's mascot.
He really has been forgotten over the years.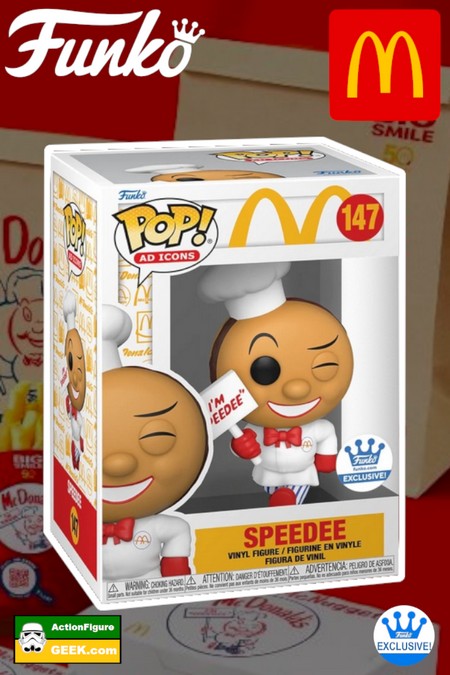 Shop for the McDonald's – Speedee Funko Pop! following Retailers
You can buy this Funko Pop McDonalds – Speedee vinyl figure at the following online retailers:

More Ad Icons Funko Pops at Entertainment Earth

Get a generous 10% discount on all in-stock items and free postage on all orders over $39.99 at Entertainment Earth by using our special AFGEEK discount. 

If you would like to know more about this discount then please refer to our Entertainment Earth Discount page.
Speedee was first introduced as the fast food chain's mascot in 1948.
He was a little chef with a big smile who was supposed to represent the restaurant's speedy service.
The loveable little chef Speedee was the face of the fast food chain McDonald's for almost 20 years before being replaced in 1967 by Ronald McDonald.
It is reported that the Speedee mascot was very, very close in design to the Alka Seltzer's logo. Mcdonald's really didn't want any association or confusion with indigestion tablets. It wouldn't have been a good look for a restaurant. McDonald's was forced to quietly drop Speedee in favor of Ronald McDonald.
For me, Speedee is a much better option as the face of McDonald's than Ronald McDonald has been.
Are you an Ad Icon Funko Pop fan?
Will you be adding this McDonald's Speedee Funko Pop to your collection?
Which other Funko Pop vinyl figures do you collect?
Have you seen the Captain America: Civil War Build A Scene – Black Panther Funko Pop! Amazon Exclusive? the Build A Scene series is very cool. I also like the Anastasia Funko Pop and the My Melody Funko Pops.
But I am interested in hearing about what you like in the world of Funko.
Let me know in the comments below.
Regards
AFG