Last Updated on June 30, 2023 by Dexter Roona
Today we bring news on the NEW Demon Slayer – Obanai Iguro Funko Pop! The Serpent Hashira. We have all the info you need on this new Kimetsu no Yaiba Funko Pop! including the best online retailers to buy the Serpent Hashira from.
If you're a fan of the hit anime series Demon Slayer, you will be fully aware that the Obanai Iguro aka the Serpent Hashira, is a captivating character with his mysterious character and very unique serpent-themed abilities. Now, fans have the opportunity to bring this remarkable new Funko Demon Slayer character to life in their collections
Together we take a deep dive into the Serpent Hashira Demon Slayer Funko Pop! and give you the background on Obanai Iguro.
1395 Demon Slayer – Obanai Iguro Funko Pop! The Serpent Hashira
This NEW Demon Slayer – Obanai Iguro Funko Pop! Funko Shop Exclusive is meticulously designed with attention to detail, capturing the essence of the lizard-like Serpent Hashira's distinctive appearance. From his piercing gaze to the intricate striped uniform, this Funko Pop! really catches the essence of Obanai Iguro.
He is laying across the branch of a tree with a snake around his shoulders.
Whether you're an avid Funko Pop! collector or simply a fan of Demon Slayer, this unique Funko Shop Exclusive is a must-have addition to your Kimetsu no Yaiba display. With its compact size and vibrant colors, it is the perfect addition to your desk, shelf, or any space that could use a touch of Demon Slayer anime magic.
So don't miss out on this incredible opportunity to add the NEW Demon Slayer – Obanai Iguro Funko Pop! The Serpent Hashira to your collection and let the world of Demon Slayer come alive right before your eyes. A great addition to the Demon Slayer Funko Pop! Series.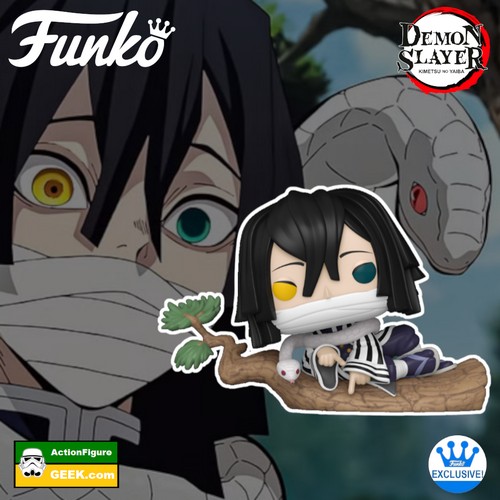 Shopping Guide

Buy the NEW Demon Slayer – Obanai Iguro Funko Pop! The Serpent Hashira at the following online retailers:

Price Check – eBay and eBay UK

Price Check – Amazon and Amazon UK

Buy Attack on Titan Funko Pops and Merch at Entertainment Earth.

Use our special discount code and receive a 10% discount on all in-stock items.
In the dark and dangerous world of Demon Slayer, demons lurk and threaten humanity. Powerful warriors known as Hashira stand as beacons of hope. Among them is Obanai Iguro, also known as the Serpent Hashira. Obanai Iguro has a very unique fighting style and unwavering determination and has become an indispensable asset for the Demon Slayer Corps and their fight against evil.
His past very much remains shrouded in mystery. With his striking appearance, he exudes an air of danger and intrigue but also carries a calm and reserved demeanor. He is also intensely loyal to his comrades and fellow Demon Slayer Corps.
The Serpent Hashira specializes in a very distinct combat technique called Serpent Breathing. This style of breathing harnesses the power of snakes, enabling him to strike with lethal precision and agility. His accompanying movements are fluid and graceful, reminiscent of a serpent in motion.
Obanai carries a tragic past, filled with personal struggles and sacrifices that have shaped him into the warrior he is today.
His presence in the story brings an element of intrigue and mystery to the Demon Slater narrative.
His interactions with the other Hashira and main characters, such as Tanjiro Kamado and Nezuko Kamado, reveal unexpected connections and add layers to the story.
Related Anime Funko Pops: