Last Updated on December 30, 2022 by Dexter Roona
Today we delve into the world of Dungeons and Dragons and bring you my Tiamat Funko Pop article. We have all the news and info on this cool Pop and the best online retailers to buy it from.
Tiamat is a 5 headed demonic goddess from the popular role-playing game Dungeons and Dragons. Tiamat's name is derived from a goddess in ancient Mesopotamian mythology.
She has the role of the queen and is the mother of evil dragons. She is also a distinguished member of the default pantheon of Dungeons and Dragons gods.
NB: Disclaimer – This Tiamat Funko Pop Dungeons and Dragons article contains product affiliate links. If you click a link and make a purchase then Action Figure Geek may make a very small commission from qualifying purchases.
Tiamat Funko Pop Dungeons and Dragons Winter Convention Exclusive Supersized Pop with D20
Tiamat is the five-headed queen of the evil chromatic dragons. Each of her heads is a different color. She has black, blue, green, red, and white heads. Each of Tiamat's heads holds the powers of a member of the respective race of dragon kind. Tiamat's body has a multi-colored hide she also has a long tail with a poisonous-tipped stinger.
Tiamat has also been known to manifest as a dark-haired human sorceress.
Shopping Guide
Shop for the Dungeons and Dragons Tiamat Funko Pop at:

Get a 10% Discount on all instock items and Free Postage on all orders over $39.99 by using our AFGEEK discount code today.

Read more on this amazing discount at – Entertainment Earth Discount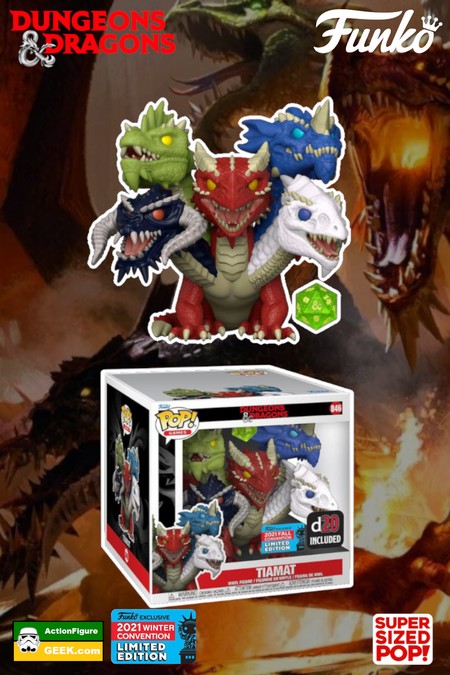 Are you a Dungeons and Dragons fan?
Will you be looking to add this Tiamat Funko Pop to your Dungeons and Dragons Funko Pop collection?
Which other Funko Pops do you collect?
I am a big fan of the Sally Face Funko Pops and the Genshin Impact Funko Pops. The Mortal Kombat Funko Pops are also pretty special as well.
But I want to hear from you.
Let me know what you like and dislike in the comments section below.
Regards
AFG