Last Updated on January 16, 2023 by Dexter Roona
We have a new Movie Posters Funko Pop! to report on with this new The Wizard of Oz Funko Pop! Movie Poster Vinyl Figure Diamond Collection. We have all the news and info on this new release along with the best online retailers to buy it from.
The story of The Wizard of Oz focuses on the story of Dorothy Gale a young Kansas farm girl and companions that she meets along the way. Dorothy dreams of a land "somewhere over the rainbow."
The Wizard of Oz was released in 1939 and was directed by Victor Fleming, who is also known for directing the classic Gone with the wind.
Wizard of Oz is a film that has captivated its audiences throughout the years. It is full of delightful characters, and truly unforgettable songs. It is a film that initially starts in black and white. Then after a few minutes changes into bright and vibrant Technicolor.
NB: Disclaimer – This new Wizard of Oz Funko Pop! Movie Poster Vinyl Figure article contains product affiliate links. If you click a link and make a purchase then AFG may make a very small commission at no cost to you.
Wizard of Oz Funko Pop! Movie Poster Vinyl Figure Diamond Collection
If you are a fan of the Wizard of Oz story, then this new The Wizard of Oz – Dorothy and Toto Funko Pop! Movie Poster Vinyl set is perfect for you.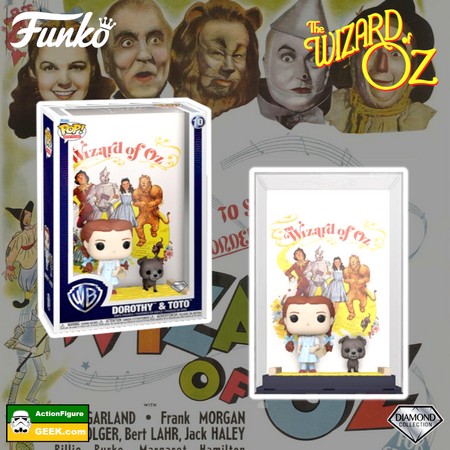 Shopping Guide
Buy the Funko Pop Wizard of Oz Movie Poster Vinyl Figure at:

Get a 10% discount on all in-stock items and free postage on all orders over $39.99 at Entertainment Earth by using our special AFGEEK discount. If you would like to know more about this discount then please refer to our Entertainment Earth Discount page.
The Wizard of Oz is one of the most beloved movies of all time. Upon its release, it became an immediate critical and commercial success.
Dorothy played by Judy Garland, is a young Kansas girl living with her Aunt Em and Uncle Henry on their farm. When a powerful tornado hits the farm, Dorothy is transported to the magical land of Oz. On arrival, she meets a Scarecrow who is in need of a brain, a Tin Man who wants a heart, and a Cowardly Lion looking for courage.
Together, our heroes journey along the yellow brick road to the far and distant Emerald City. They hope to meet the wise and wonderous Wizard, who they believe can help them fulfill their wishes.
They face many challenges and overcome obstacles on their journey to learn an important lesson about friendship and loyalty
Along the way, they face challenges and overcome obstacles, learning valuable lessons about friendship, loyalty, and courage. The Wizard is revealed as a fraud leading the newfound friends to learn that there is no place like home.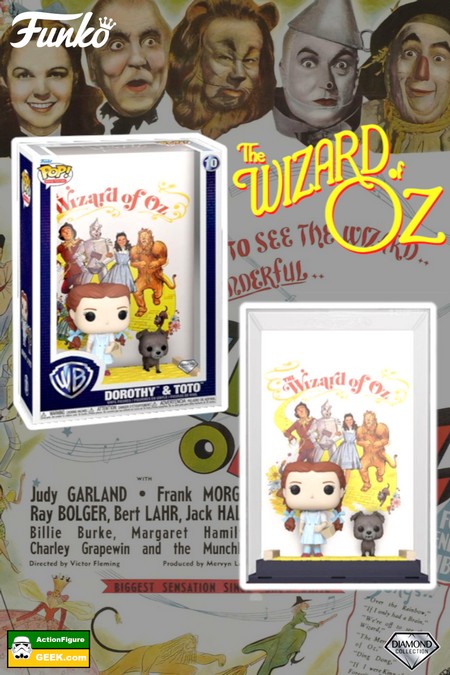 Are you a Wizard of Oz fan?
Will you be adding this new The Wizard of Oz Movie Poster Funko Pop to your collection?
Which other movie Funko Pops do you like?
I am a big fan of the new Shazam Fury of the Gods Funko Pops and the Harry Potter Luna Lovegood Funko Pop.
Away from Movies, I am a fan of the Big Mouth Funko Pops and the Jiraiya on Toad Funko Pop Rides figure and I have to give a shout-out to the Tiamat Funko Pop.
But what do you like?
Let me know in the comments below.
Regards
AFG