Last Updated on August 8, 2023 by Dexter Roona
Today we bring you another really cool Demon Slayer Funko Pop! in the shape of the new Demon Slayer Susamaru Funko Pop! with Glow Chase. We have all the news on this awesome new Kimetsu no Yaiba Funko Pop! including the best online retailers to buy it from.
Demon Slayer fans gather around as we bring news on a brand new Funko Pop! coming our way… Susamaru, the much-loved demon skilled in temari-flinging, is creating waves within the Demon Slayer Funko Pop! world. She joins the Funko Pop! Animation/Anime series with her exclusive figure titled "Demon Slayer- Susamaru with Glow (GITD) Chase Funko Pop! Vinyl Figure."
This awesome GLOW (GITD) Chase Variant Funko Pop! of Susamaru captures the very essence of the mysterious Kimetsu no Yaiba demon. She is a Funko Pop that looks like she is alive and is sure to keep you intrigued, always uncertain of her next move.
Be careful of any impending temari ball onslaught.
Let's take a closer look at the awesome 1409 Demon Slayer Susamaru Funko Pop!
NB: This new 1409 Demon Slayer Susamaru Funko Pop! article contains product affiliate links to the Susamaru Pop and to other related figures. If you click a link and make a purchase then AFG may make a very small commission at no cost to you.
1409 Demon Slayer Susamaru Funko Pop! with Glow Chase
The all-new Susamaru's Funko Pop! flawlessly captures the playful demon in all her terrifying glory. She is ready to wield her Japanese handballs that have become familiar to all Demon Slayer fans.
Susamaru comes as a regular common Pop! and also as a much harder-to-find Glow chase variant.
The 1409 Demon Slayer Susamaru Funko Pop! is certainly a Pop! that I want in my collection and is a great addition to the Demon Slayer Funko Pop! list of vinyl figures.
Shopping Guide
Unveiling Susamaru: Unmasking the Enigmatic Demon of Temari Power
Despite not holding a coveted position among the Twelve Kizuki, Susamaru still managed undeniably to etch her presence into the memories of Tanjiro and Nezuko throughout the Asakusa Arc.
Susamaru is a spirited and youthful demon, who has gained renown for her remarkable skills in hurling temari balls. When teaming up with Yahaba, Susamaru's objective revolves around playfully targeting Demon Slayers.
Her youthfulness, archaic speech patterns, and lethal skills combine to create a distinctive and unforgettable adversary within the world of the Demon Slayer.
Susamaru is a demon with formidable strength and speed. Her combat skills are firmly rooted in her mastery over temari balls, the traditional Japanese handballs she wields to crush her adversaries.
Her temari balls hold a remarkable destructive might and exhibit an almost autonomous nature, relentlessly pursuing and chasing down their target.
Susamaru also has the ability to shape-shift. She is able to multiply the number of arms she has, a very useful ability in the midst of battle.
Her skill with the temari balls and her extraordinary physical power that she possesses makes Susamaru a challenging adversary even for the most proficient of Demon Slayers.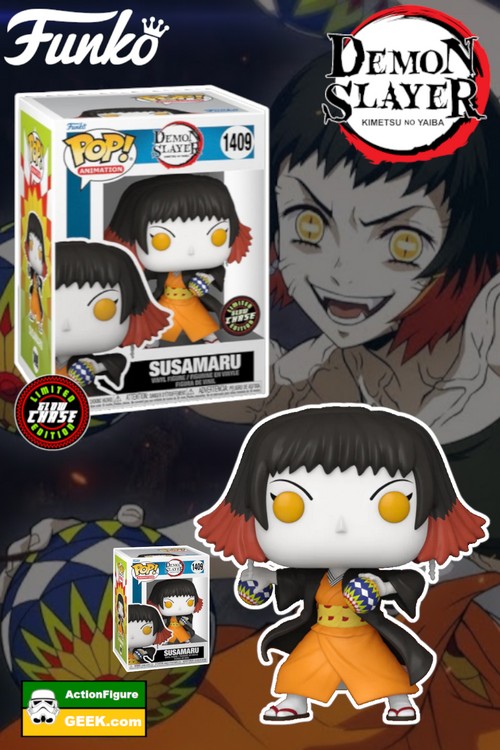 Susamaru's undoing was not her lack of strength or agility but rather her down to her impulsive nature.
She unknowingly triggers a deadly curse as she loses her cool and speaks Muzan's name.
Susamaru's inability to control her emotions ultimately leads to her gruesome demise.
Susamaru may not have made it to the Upper Ranks, but her character remains etched in the minds of all Demon Slayer fans.
Partner in Crime

Susamaru's partner in crime during the Asakusa Arc was Yahaba.

Yahaba prefers a mature and clean approach, often disapproving of his fellow demon Susamaru's childish behavior.

You can buy the Yahaba Funko Pop! at the following retailers:

Price Check – Entertainment Earth

Price Check – Amazon and Amazon UK
Related Anime Funko Pop! Articles