Last Updated on August 5, 2023 by Dexter Roona
The Demon Slayer Funko Pop! list continues to grow with this Demon Slayer Yahaba Funko Pop! Glow in the Dark – PX Exclusive and Funko Special Edition. We have all the news on this cool new Funko Anime release including the best online retailers to buy it from.
Yahaba is an intriguing Demon who possesses a killer look and mesmerizing abilities that captivate fans' imaginations and now Now Demon Slayer Funko Pop! collectors must make space in their collections for the enigmatic Yahaba.
This very cool new Demon Slayer Pop is a Glow-In-The-Dark (GITD) Funko Pop! available as a PX Previews Exclusive and also as a Funko Special Edition and there is also a stickerless common version as well.
NB: This new Demon Slayer -Yahaba Funko Pop! Glow in the Dark – PX Exclusive and Special Edition article contains product affiliate links. If you click a link and make a purchase then AFG may make a very small commission at no cost to you.
NEW Demon Slayer -Yahaba Funko Pop! Glow in the Dark – PX Exclusive and Special Edition
The new Yahaba GLOW (GITD) Pop! provides a glimpse into the character's charisma and prowess and showcases Yahaba's powerful abilities and pays homage to the complexities of Yahaba's character and his relentless pursuit of power.
These new PX Previews Exclusives and Special Edition Pops are always highly collected by Funko and Anime Fans, and the Yahaba GITD Px Exclusive and Special Edition is no exception.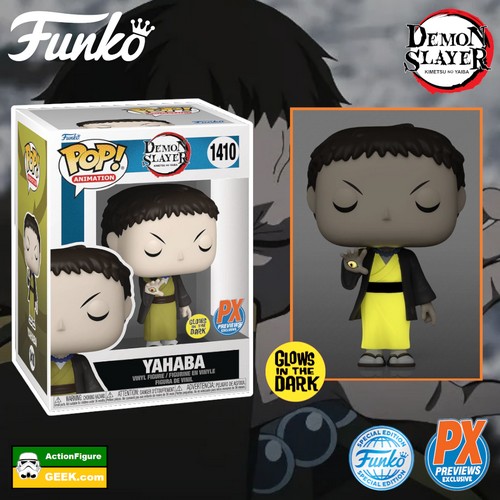 Shopping Guide
You can buy the NEW Demon Slayer -Yahaba Funko Pop! Glow in the Dark – PX Exclusive and Special Edition at the following online retailers:
Price Check – Entertainment Earth
Price Check – Amazon and Amazon UK
Get a 10% discount on all in-stock Demon Slayer Funko Pops by using our AFGeek discount code – Details here: Entertainment Earth Discount.
Who is Yahaba?
If you are a fan of the awesome Demon Slayer anime then you will be very familiar with the captivating cast of characters that have captured the hearts of anime fans worldwide.
Amongst this diverse carousel of Demon Slayers and Demons is the enthralling and hypnotic Yahaba the central antagonist in the Asakusa Arc, who holds aspirations of joining Muzan Kibutsuji's elite Twelve Kizuki.
His distinctive appearance, with short black hair, pale, gray-tinted white skin, and mesmerizing eyes on his hands, leaves a lasting impression mixed with strategic acumen and telekinetic abilities making him an intriguing addition to the Demon Slayer universe.
Yahaba has unwavering loyalty to Muzan and a desire to please the leader and gain his approval.
Despite his sadistic tendencies, Yahaba prefers a mature and clean approach, often disapproving of his fellow demon Susamaru's childish behavior.
Undoubtedly, the most striking aspect of Yahaba's appearance is the eyes on his hands which give him a distinct and unforgettable look but also play a crucial role in his combat abilities.
With the power to read his opponents' movements and assess their strength, these all-seeing eyes give Yahaba the upper hand in battles with the Demon Slayers, and with his strategic thinking and unorthodox Blood Demon Art he truly is a formidable adversary for Demon Slayers.
Just how do you deal with an opponent with the unique ability to conjure and manipulate invisible red arrows through his palm eyes that is the challenge that faces his enemies?
With his tactical prowess, Yahaba stands out from the rest, making him a fan favorite in the Demon Slayer universe.
Though Yahaba's time in Demon Slayer may have been brief, his presence continues to spark conversations and fan theories in the forums and social media sites
There really is no doubt that his distinctive appearance and innovative abilities have left an indelible mark on the series, ensuring he remains a memorable character.
This pretty awesome Demon Slayer Yahaba Funko Pop! Glow in the Dark – PX Exclusive and Special Edition Funko Pop release proves this.
As the story of Demon Slayer unfolds, Yahaba's legacy lives on in the hearts of fans and the annals of anime history.
Related Funko Pop! Articles: