Last Updated on November 21, 2022 by Dexter Roona
We have a new Funko Pop Flash GITD Funko Pop! and T-Shirt 2-Pack to talk about today. Here is everything that you need to know about this stylish new DC Flash Funko Pop and all the best online retailers to buy him from.
The Flash is the fastest man alive or at least he is in the DC Universe.
Barry Allen is the Flash, the man behind the mask and a founding member of the Justice League.
Barry Allen spent 4 long months in a coma after being struck by lightning. When Barry finally woke up he discovered that he had gained super-speed abilities.
Barry began to experiment with his newfound powers. He carefully tested his limits and discovered that regular everyday shoes and clothing didn't stand up to the rigors of fast-paced super-speed very well. His solution was to create friction-resistant boots and clothing.
NB: This NEW 2022 Funko Pop The Flash GITD T-Shirt 2-Pack article does contain product affiliate links. If you click a link and make a purchase then AFG may make a very small commission at no cost to you.
Funko Pop The Flash GITD Figure and T-Shirt 2-Pack
This new Flash GITD Funko Pop Vinyl Figure and T-Shirt 2-Pack includes 1x Flash GITD Funko Pop and 1x Pop T-Shirt.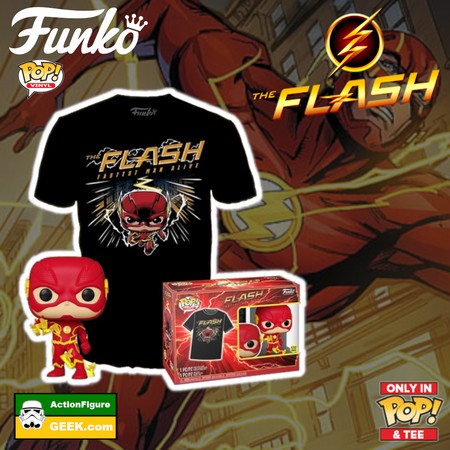 T-Shirt sizes in inches are below:

X-Small 27″ 18″ 8.25″
Small 28″ 20″ 8.5″
Medium 29″ 22″ 8.75″
Large 29.5″ 23″ 8.75″
X-Large 30″ 24″ 9″
XX-Large 31″ 26″ 9.25″
The packaging of the Flash Funko Pop has the exclusive Pop Tee sticker making him a collectible Pop for DC and Funko fans.
Shop for the Funko Pop Flash GITD T-Shirt 2-Pack at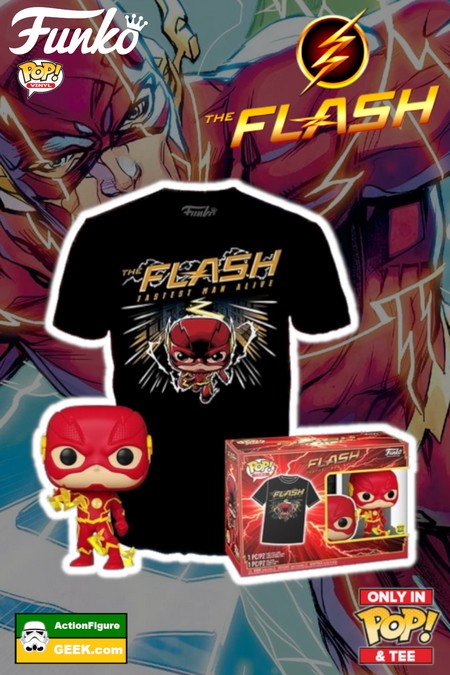 Starting today you can get a 10% discount on all in-stock items and free postage on all orders over $39.99 at Entertainment Earth – The link is at the bottom of the page.
Barry first meets his future Justice League team members while trying to stop a fight between Batman and Superman in Central City. Barry uses his super speed abilities. He is surprised when the man of steel Superman stops him in his tracks with the flick of his finger.
Will you be adding this new Flash Funko Pop T-Shirt 2-Pack to your DC Funko Pop collection?
Which other DC Pops do you collect?
I really like the DC Comic Covers Funko Pops and the Peacemaker Funko Pops is pretty awesome as well along with the Joker T-shirt 2-pack.
Away from anime I really like the Doppelganger Spider-Man Funko Pop and the Ultimate Princess Elsa (Gold outfit) Funko Pop is great as well.
But I want to hear from you. Which Pops and action figures do you like?
Let me know in the AFG comments below.
Regards
AFG
Get a 10% discount on all in-stock items and free postage on orders over $39.99 at Entertainment Earth. Use our AFGEEK discount code that you can get here – Entertainment Earth Discount