Last Updated on November 21, 2022 by Dexter Roona
We have a really cool new Funko Pop Batman Joker Blacklight Funko Pop! Vinyl Figure and T-Shirt 2-Pack to talk about today. Here is everything you need about this new DC Funko collectible and the best online retailers to pick him up from.
The Joker is a criminal mastermind. A dangerous psychopath with a warped mind, and a highly sadistic sense of humor. The character became a much more goofy, prankster-type villain in the late 1950s as a result of tight regulation by the Comics Code Authority. In the 1970s the Joker returned to his much darker roots.
NB: This Funko Pop Joker and T-Shirt 2-Pack article contains product affiliate links. If you click a link and make a purchase then ActionFigureGeek may make a very small commission at no cost to you.
Funko Pop Batman Joker Blacklight Pop Vinyl Figure with T-Shirt 2-Pack
This stylized Batman Animated Series Joker Blacklight Pop offers great value for money. The 2-pack comes with the Joker Blacklight Funko Pop and the Joker T-Shirt and is a must for DC Joker Funko fans and collectors alike. The Joker Blacklight T-Shirt 2-pack is one that I will be adding to my DC Funko Pop collection. The same Pop is available as a Hot Topic Exclusive and Funko Special Edition
When the lights go out this Backlight Joker Pop puts on a glowing colorful show. He is sure to stand out in your collection.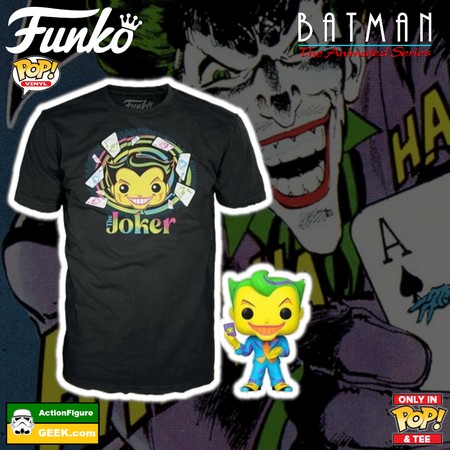 Shop for the Funko Pop Batman Joker  Vinyl Figure and Adult Pop! T-Shirt 2-Pack at:
Starting today you can get a 10% discount on all in-stock items and free postage on all orders over $39.99 at Entertainment Earth – The link is at the bottom of the page.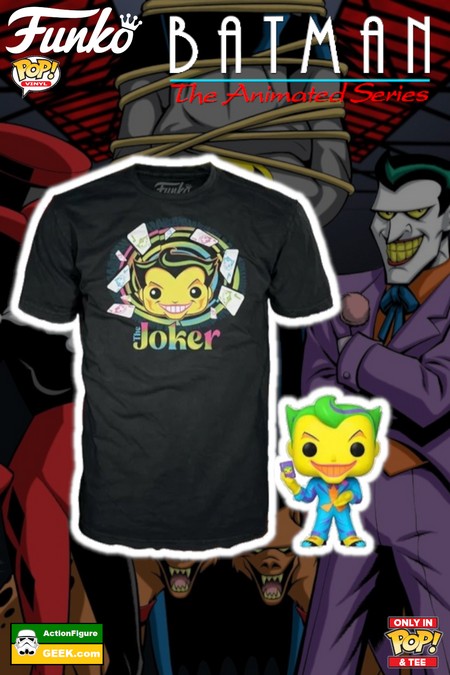 Will you be adding this new Funko Pop Batman Joker Pop figure and T-Shirt 2-Pack to your DC Funko Pop collection?
Which other DC Funko Pops do you collect?
I really like the new Polka Dot Man Funko Pop and the Azrael Batman Funko Pop is pretty awesome as well along with The Flash T-Shirt 2-pack.
Away from anime I really like the Dragon Ball Z Frieza Final Form Funko Pop with T-Shirt and the Care Bears Anniver.
But I want to hear from you. Which Pops and action figures do you like?
Let me know in the AFG comments below.
Regards
AFG
Get a 10% discount on all in-stock items and free postage on orders over $39.99 at Entertainment Earth. Use our AFGEEK discount code that you can get here – Entertainment Earth Discount