The thing about Funko Pop Vinyls is that they are just so collectable. So actually giving a list of my favourite Funko Pop Vinyls is really quite a difficult thing to do. With that said here is my favourite Game Of Thrones Funko Pop Vinyls. 
And boy was it hard to choose!
Every time a new Movie is released or a new Tv show lands that I like they go make another collection of really cool pops that grab my attention so my favourites are always changing.
But in this article, I will be sharing my absolute favourite Game Of Thrones Funko Pop Vinyls that will always be on my list. The list may, well it will get bigger as I am pretty sure that new GOT pops will be released when Season 8 hits our screens.
My Favourite Game Of Thrones Funko Pop Vinyls 
So let's kick this off!
I'm a huge fan of Game Of Thrones and the first Pop Vinyl that makes it onto my GOT favourites list is the:
Night King and Icy Viserion Vinyl 2 Pack
Game of Thrones Season 7 left off with the Night King and Viserion bringing down the Great Wall and setting us up for Season 8 the final Season.
Funko made a great Pop 2 pack depicting the NightKing and Viserion from that scene that glows in the dark.
It is not a particularly rare Pop 2 pack and is still widely available.
I was lucky enough to pick one up on my last birthday.
Being such a huge Game Of Thrones, fan The Night King and Icy Viserion has to be on my Favorites Game of Thrones Pop list.
Next up we have
Headless Ned Stark
The next Game Of Thrones Pop to make my list Is one that I mention on my 20 Rarest Funko Pop Figures and that is the Headless Ned Stark
Headless Ned is one figure that I really would love to own but unfortunately, he is well out of my budget.
Headless Ned Stark will set you back anything up to $2999.99 that's currently £2169 Uk pounds before you factor in import tax if outside the country where the item is being sold!.
Everyone following Game of Thrones was horrified to see Ned Stark executed.
This GOT Funko Pop depicts probably the biggest iconic moment in GOT, one that came to define Game of Thrones as a much watch Tv show.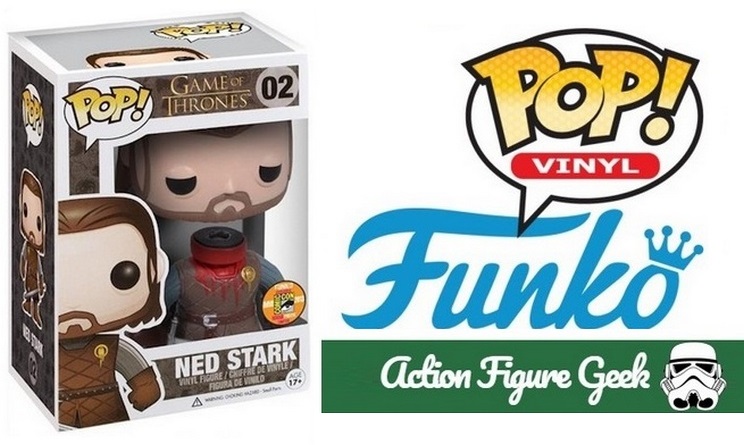 The Headless Ned Stark Funko Pop makes it into my My Favourite Game Of Thrones Funko Pop Vinyls List
Click To Tweet
Moving on
Daenerys Targaryen Vinyl Figure #03 [Green Dragon]
Daenerys Targaryen with the green dragon was the very first Pop that I purchased and for that reason she makes my GOT favourites list.
This is by no way a rare Pop or a valuable Pop as she is still readily available via Amazon.
But even though she is still available she a definite must. You will need to have this version of Daenerys Targaryen to complete any good Game Of Thrones Pop collection. 
If your looking for something rarer or more value then you can also find versions of this same Pop with a red dragon and even one with a gold dragon.
According to our friends at the Pop Price Guide, Daenerys Targaryen with the gold dragon is worth a cool $350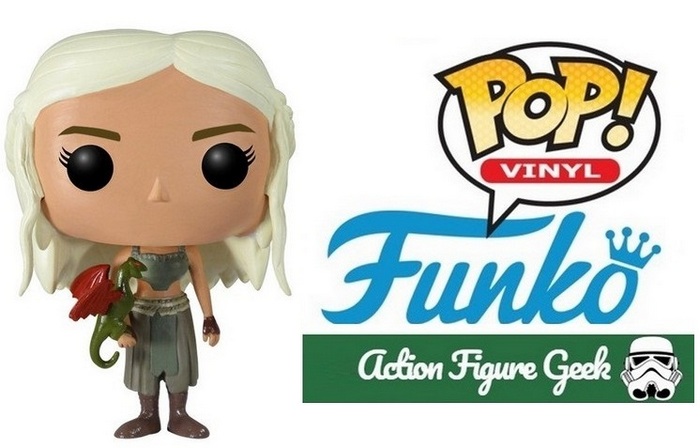 Of course, Daenerys Targaryen makes it into My Favourite Game Of Thrones Funko Pop Vinyls List - Who else is in the list?
Click To Tweet
Daenerys and Drogon 2 Pack #15
If the Night King and Icy Viserion make your GOT Pop favourites list then  Daenerys and Dragon have to as well.
Daenerys is wearing her white dress and also can be removed from Drogon's back.
However, Daenerys can only ever really be positioned on the back of Drogon as her legs are bent in a riding position
This Funko Pop Rides set is an excellent addition to any Funko Pop collection or for anyone who enjoys the Game of Thrones series and this is why it makes my GOT Pop list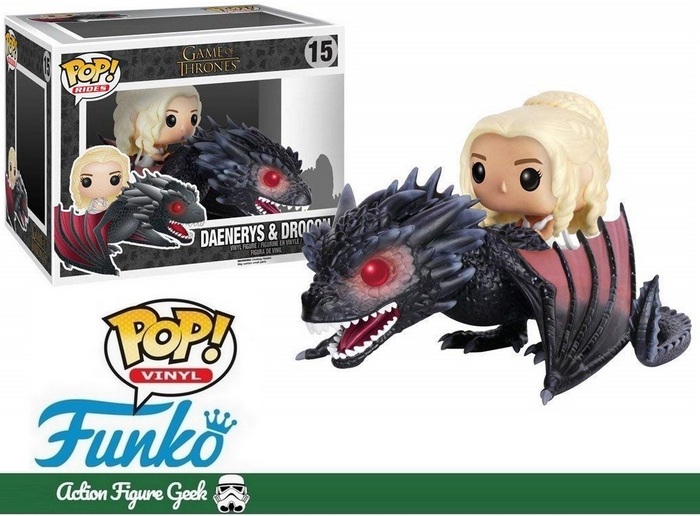 Giant Wight
This guy does take up a bit more shelf space but it is space well spent.
Wights are the reanimated corpses brought back to life by the White Walkers and serve in the Army Of The Dead
This vinyl figure stands approximately 6 inches tall.
It is one of the few oversized Funko Pop figures released.
HulkBuster IronMan is another of the oversized figures that Funko have released.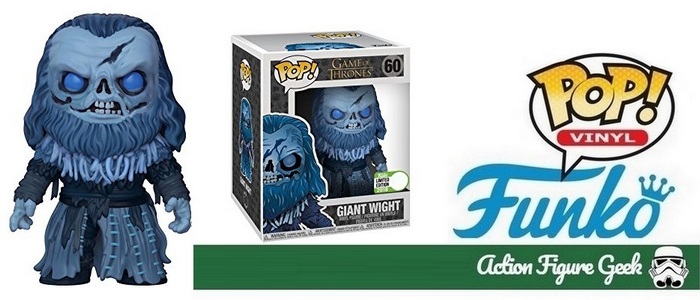 Game of Thrones Joffrey Baratheon Vinyl Figure
Next up we have Joffrey Baratheon.
Joffrey is the reason that we have a Headless Ned Stark as he gave the order to execute Ned.
Joffrey is going to cost you a hefty $150 from Amazon if you want to add him to your Pop collection so unless you have deep pockets you have missed the boat for picking this GOT Pop.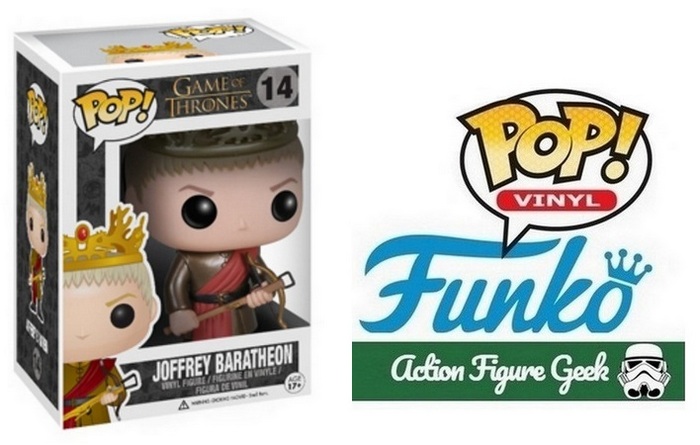 No Game of Thrones Funko Pop Vinyl Collection is complete without Joffrey Baratheon
Click To Tweet
Funko POP – Bloodied Jon Snow Hot Topic Exclusive
So what is a Hot Topic exclusive?
A Hot Topic exclusive is an item that is available on Hot Topic.com only and not available at any Hot Topic stores. It is exclusive to the website.
But I am then not sure how these exclusives then find their way into other stores.
This version of a very bloodied Jon Snow is available for example to buy via Amazon?
I am guessing a private business or seller is selling him via Amazon.
Hot Topic figures are very collectable and can come with a Hot Topic Exclusive Sticker on the clear plastic.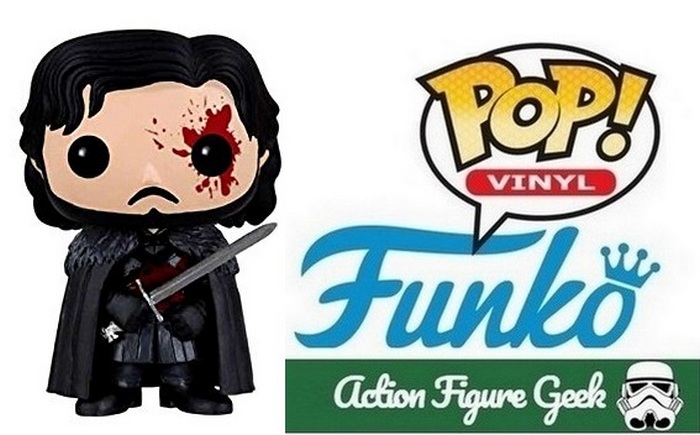 Brienne of Tarth 
Here we see Brienne in the Lannister gold armour, wielding Oathkeeper.
Brienne has lasted many a season on GOT but will she make it to the end of the final season.
Whatever happens, she is still one of the best Game Of Thrones Pops that you could add to your collection.
White Walker (Glow In The Dark)
Good luck finding this Game Of Thrones pop
The Glow In The Dark White Walker was an HMV Exclusive Pop and was released back in 2013 and would be quite a valuable addition to your GOT Pop collection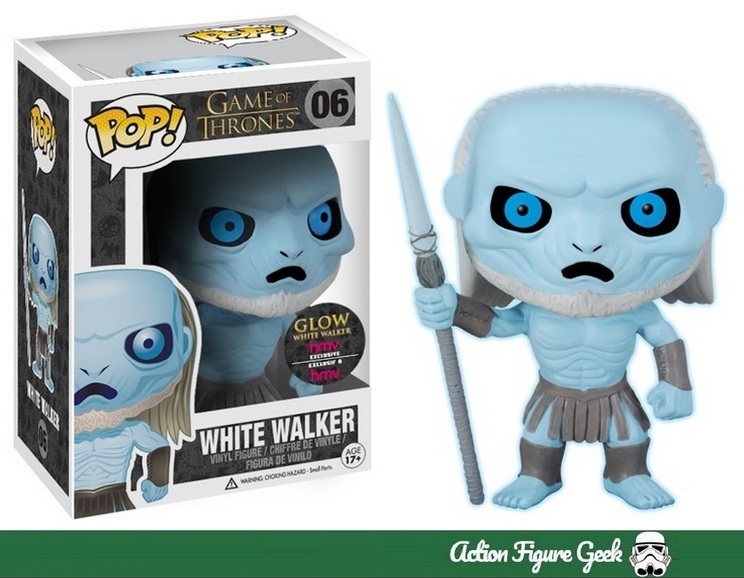 If you want the Glow In The Dark White Walker then he is going to cost you around $600 currently.
There is however a very good compromise available as there is a standard version of the White Walker, he just doesn't glow.
You can still pick him up over on Amazon.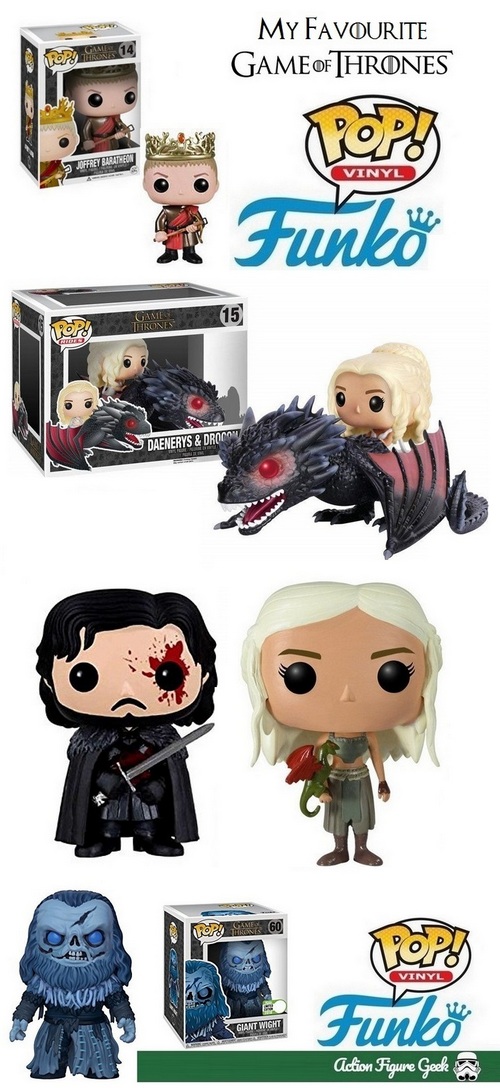 That's all for now!
So, do you collect Funko Pop Vinyls?
Are there Game of Thrones Pops in your collection?
Are there any other GOT Pops that we should add to my favourite Game Of Thrones Funko Pop Vinyls list?
Let us know in the comments section below.
Make sure that you subscribe to the comments so that you are notified when we reply
Regards Dexter
Related Articles